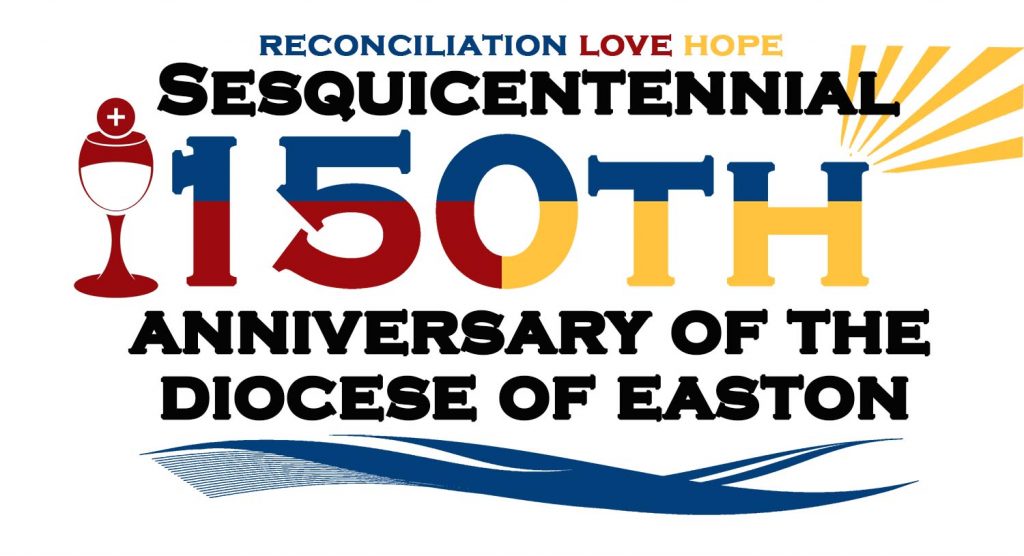 Grace Upon Grace
A Sesquicentennial Witness to Christ's
Love, Hope and Reconciliation
1868-2018
The 150th Anniversary of the Diocese of Easton is a year-long commemoration and celebration of a people bound by faith, humbled in reconciliation, driven by love, and steadfast in their hope in Christ. This year will be marked by a series of events designed to dig into the core of these themes and to build momentum for the next 150 years of God at work on the Eastern Shore. The following pages outline these upcoming events and take a closer look at the themes for the year.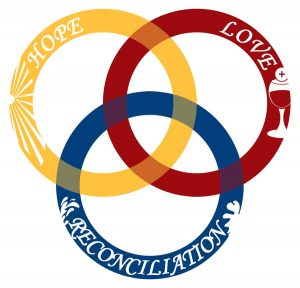 MAJOR EVENTS:
Convention 2018 "Faith Redeeming Fate" – Kick-Off to the 150th
Reconciliation Eucharist on May 5th, 2018 at the Harriet Tubman Museum
The 150 Challenge: Love like Jesus Outreach throughout the Summer
Gathering Hope: A Harvest Festival on October 27th at Camp Wright
Convention 2019, Ignite Conference, and Celebration Eucharist with Presiding Bishop Curry on March 1-3, 2019
OTHER NOTABLES:
A Commemorative Booklet is being produced and will be available at Convention 2019
Purchase space in the Commemorative Booklet and send us your content (ads, pictures, stories, etc)
Order T-shirts and wear them at the Convention Eucharist – March 3rd, 2019
Download logos and other media for your publications
Sesquicentennial Collect
A Litany of Repentance and Preparation for the 150th Anniversary
Music for the song, Grace Upon Grace, written for the 150th Anniversary
Our 150th website is in the process of gathering information "then and now" about each faith community in the Diocese
The Message of Reconciliation
"So, if anyone is in Christ, there is a new creation: everything old has passed away; see, everything has become new! All this is from God, who reconciled us to himself through Christ, and has given us the ministry of reconciliation; that is, in Christ God was reconciling the world to himself,* not counting their trespasses against them, and entrusting the message of reconciliation to us." (2 Corinthians 5:17-19)
As the Diocese of Easton enters into our Anniversary, we will set our minds on the work of reconciliation. We will reflect upon the ways in which we have harmed our neighbors, our environment and ourselves by things we have done and left undone. We ask God, who is ever faithful and full of mercy, to aid us to amend our lives and set us on the right path.

Harriet Tubman Museum Tour
& Reconciliation Eucharist
includes lunch


Saturday, May 5th
Eucharist Begins 11am
Tours at 9am, 10am, & 2pm

For more information and to RSVP Click Here
The Message of Love
"Beloved, since God loved us so much, we also ought to love one another. 12No one has ever seen God; if we love one another, God lives in us, and his love is perfected in us." (1 John 4:11-12)
The parish-level call of the Sesquicentennial will be "The 150 Challenge". Every Parish in the Diocese, every youth group or small group, or anyone who chooses can develop an act of outreach in love for their local community involving 150 of something. It could be 150 meals served, 150 cards mailed, 150 canned goods … the sky is the limit. We will collect brief accounts of the actions and share them with the diocese!
The 150 Challenge
Love is Contagious

May 5th – October 27th
Parishes & Groups

What are 150 things your group can do to show the
Love of Christ in your community?

Share your stories as they unfold:
#DioEastonLove
or via email to the Diocese.
The Message of Hope
"Hope does not disappoint us, because God's love has been poured into our hearts through the Holy Spirit that has been given to us." (Romans 5:5)
The Diocese of Easton finds hope in the witness of the past and the promise of the future. We will share our witness through Diocesan Heritage Sunday services in October and by a great gathering at Camp Wright in the fall. Young and old will recommit to sharing the message of hope which broadens our horizons and brings others to share the hope that is within us.

Gathering Hope
A Harvest Festival
at Camp Wright

Saturday October 27th
12pm-5pm
Download the Flyer
Volunteer Sign Up

Live Music & Performances, Games, Food, & More!
Fun for All Ages!

Youth Groups interested in
working the event can contact
joanne@dioceseofeaston.org
Grace Upon Grace, Reconciliation Hope & Love
Presiding BIshop Michael Curry will be joining us for the annual Diocesan Convention in 2019.  The convention will wrap with the "closing ceremonies" to our 150th year: A Celebration Eucharist that welcomes all.. Bear witness to the "Jesus Movement" on the Eastern Shore and joins us at this once-in-a-lifetime service.
Convention 2019 & Celebration Eucharist
with Presiding Bishop Michael Curry
March 1st-3rd, 2019: Convention
March 3rd, 2019: Celebration Eucharist
At the Hyatt, Cambridge MD