Helping Youth Find & Follow Jesus
SPRING YOUTH SUMMIT @ CAMP WRIGHT : "JOURNEY"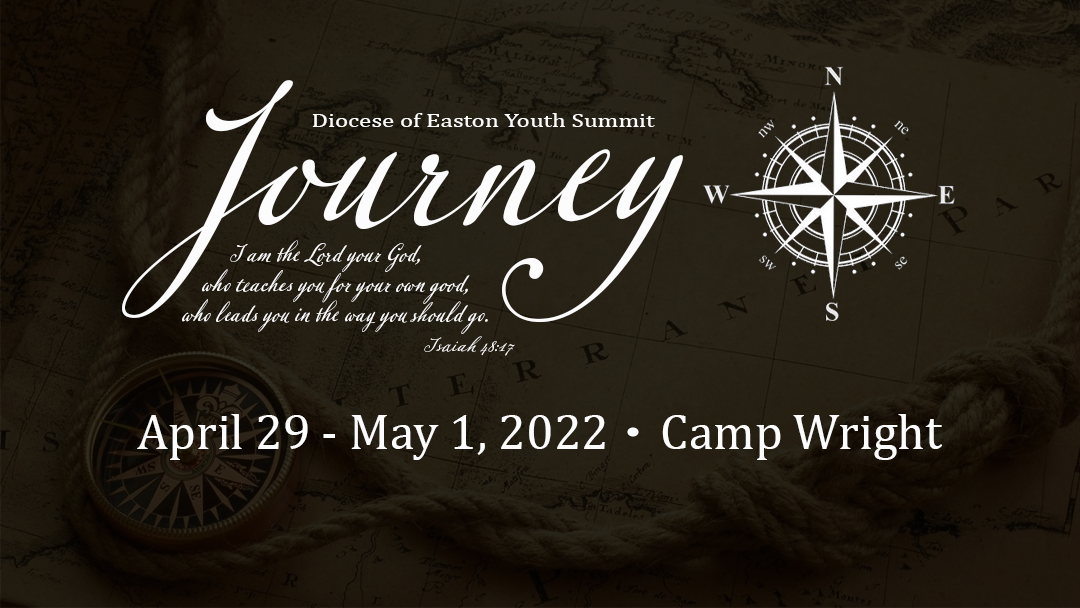 Weekend Schedule:
Friday
6:00 Check-In Opens
6:30 Dinner
7:00 Opening Session
8:15 Small Groups
9:00 Glow Games
10:30 Bonfire
11:15 Cabin Time
12:00 Lights Out
Saturday
8:15 Breakfast
9:00 Morning Session
10:15 Small Groups
12:00 Lunch
1:00 Break Outs
3:00 Afternoon Session
4:15 Small Groups
5:30 Dinner
7:00 Evening Activity
9:30 Stations
11:00 Cabin Time
12:00 Lights Out
Sunday
8:45 Breakfast
9:30 Worship
11:15 Pack Up & Clean Up
11:30 Pickup
Registration Deadline Extended through April 25th!
Youth from around the Diocese are invited to join together at Camp Wright for one epic weekend filled with exciting worship, new friends, and camp traditions. This event is for middle & high school students. Adult youth leaders and parents are also welcomed (safeguarding certification required).
Exciting Worship:  One of our favorite speakers, Heather Flies, will be joining us to explore the theme (Journey, Isaiah 48:17) and share her laughter and insights. We will also have a youth-led band and testimonies from our leadership team.
New Friends:  Our high school leadership team is preparing to lead small group activities that build confidence, encourage friendships, and promote a deeper understanding of God's hope & love.
Camp Traditions:  Enjoy Camp Wrights waterfront view and accommodations.  Plus favorites like the bonfire and s'mores, glow games, and late night cabin time. Whether you're a seasoned camper or a first-time visitor we hope you'll join us on the Bay!
 The cost of the weekend is $75 all inclusive. Please be sure to have dinner prior to arrival on Friday. Students must have their signed medical release form and payment on file prior to or at check-in.
You may register individually using the button below or as a group through your local Episcopal Church by emailing joanne@dioceseofeaston.org.
DEADLINE TO REGISTER IS APRIL 25th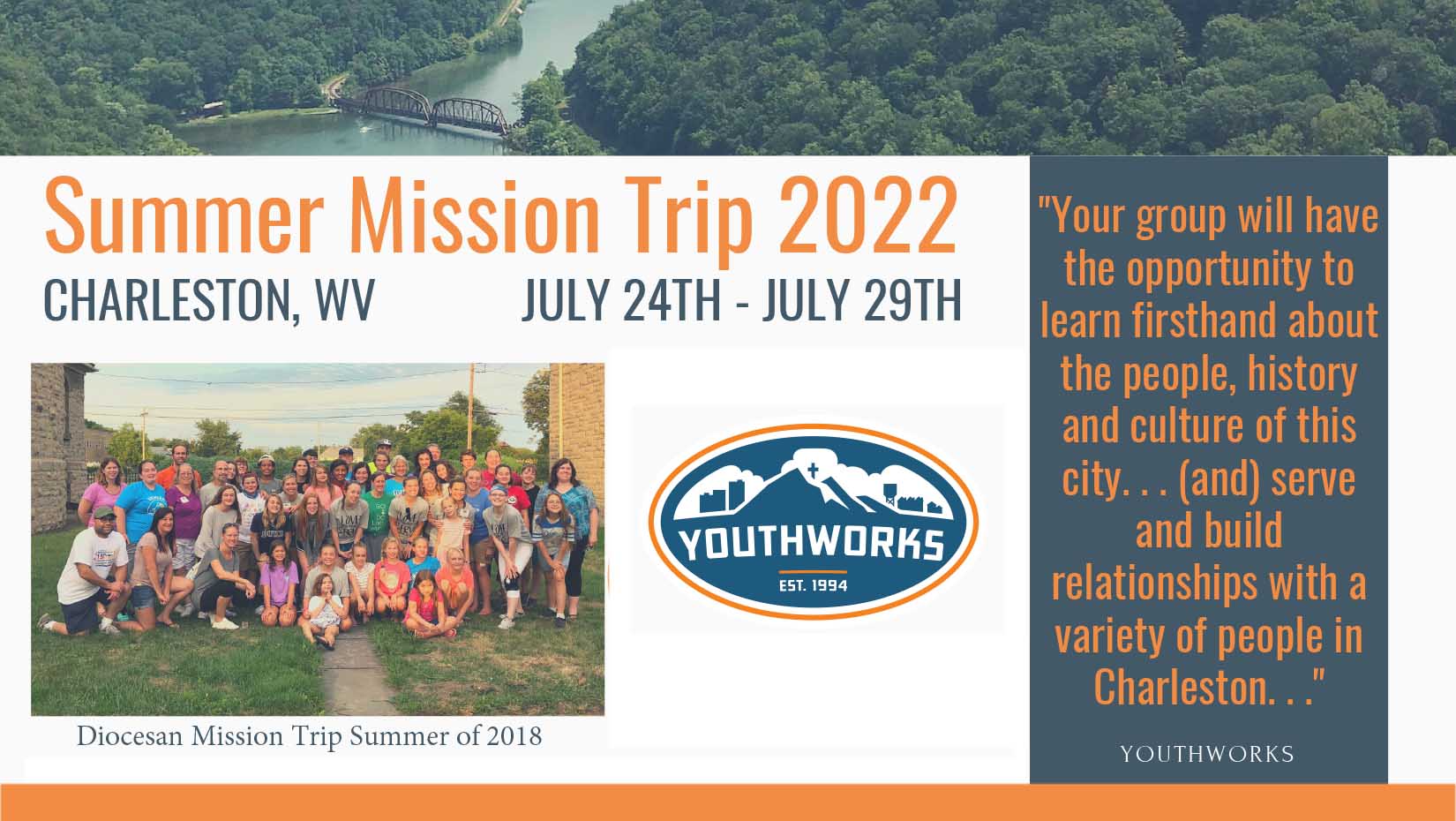 The Diocese of Easton is headed to West Virginia this Summer to work with the people of Charleston as they improve their community and serve their neighbors.  Students will receive as much as they give by interacting with Charleston residents, learning about Jesus' call to serve, and bringing back ideas to implement at home.
This trip is for current 6th graders and up, including adults. Anyone over the age of 18 at departure is required to complete safeguarding certification.
Approximate Itinerary:
SUNDAY
7:00 am Team Blessing, Depart Eastern Shore
4:30 – 6:00 pm Group Arrives at Housing Site
6:00 pm Dinner & Clean Up
7:00 – 8:30 pm Group Orientation & Snack
8:30 – 9:00 pm The Gathering (worship)
9:00 – 9:30 pm Church Group Time
10:00 pm Lights Out 
MONDAY THROUGH THURSDAY
6:45 am Breakfast Crew in Kitchen
7:00 am Wake Up
7:15 – 8:00 am Breakfast Buffet (everyone also packs their own lunch during this time)
8:00 – 8:30 am Breakfast/Building Cleanup
8:30 – 9:00 am Personal Devotion Time
9:00 am Gather and Depart for Ministry Sites
12:00pm Lunch
3:00 pm Depart Ministry Sites
3:00 – 5:0 0 pm Showers, Afternoon Snack, Leader Meeting, Dinner Crew Prepares Meal
5:00 – 6:15 pm Dinner and Cleanup
6:15 – 8:15 pm Evening Activity and Snack
8:15 – 8 :45 pm The Gathering
9:00 – 9:45 pm Church Group Time
10:00 pm Lights Out 
FRIDAY
6:00 – 7:00 am Wake Up, Load Vehicles, Eat Breakfast, Building Cleanup and Send-Off
7:00 am Depart for White Water Rafting
8:00 am Arrive Rafting Center and Orientation
9:00am On the water
12:00pm Return to Rafting Center & Lunch
1:00pm Depart for Home
6:00pm Dinner
9:30pm Return Eastern Shore (Locations & Times Vary)
The cost of the Mission Trip is $600 all inclusive. Students are encouraged to fundraise on their own or through their church to help with the cost. Please keep track of the addresses of your sponsors as we will send postcards as part of our adventure. Youthworks requires proof of vaccination OR a copy of a negative PCR test dated within 3 days of departure.
You may register individually using the button below or as a group through your local Episcopal Church by emailing joanne@dioceseofeaston.org.
DEADLINE TO REGISTER IS MARCH 15th