Below are important links followed by some quick reflections from members of our team at the 80th General Convention of the Episcopal Church, in July 2022 in Baltimore, MD.

Our Diocese of Easton Deputation:  Bishop: The Rt. Rev. Santosh Marray;  Clergy Deputies: Mary Friel, Mark Delcuze, Charlie Osberger, Patrick Collins, Frank St. Amour;  Lay Deputies: Sandra Bjork, Eddie Vance, Charlotte Meyer, Tom Shuster, Kathleen Wise Ridley
Convention Wrap-Up Links:
Early on the first day, we considered Resolution A127 for Telling the Truth about The Episcopal Church's History with Indigenous Boarding Schools. An Octogenarian lay deputy from the Episcopal Churches in Navajoland gave us her personal view. She was taken from her family to a Boarding School as a pre-teen. Her hair was cut, traditional clothing burned, and all contact with "home" was forbidden. A lifetime later, this woman, now a great grandmother and church leader, asked our church to uncover and tell the truth.
I was in tears. Here was a woman who could have used her pain and suffering to fuel hatred and resentment. She chose a different path, a path of truth and reconciliation. She called us to join the Beloved Community and embrace our baptismal vow "to strive for justice and peace among all people, and respect the dignity of every human being". During a break, I went to her Deputation. Through tears, I tried to thank the deputy for her fearless testimony and her clear call to the Way of Love. She looked at me for a long time and then said: "bless you father, go and speak the truth".
– The Rev. Mark Delcuze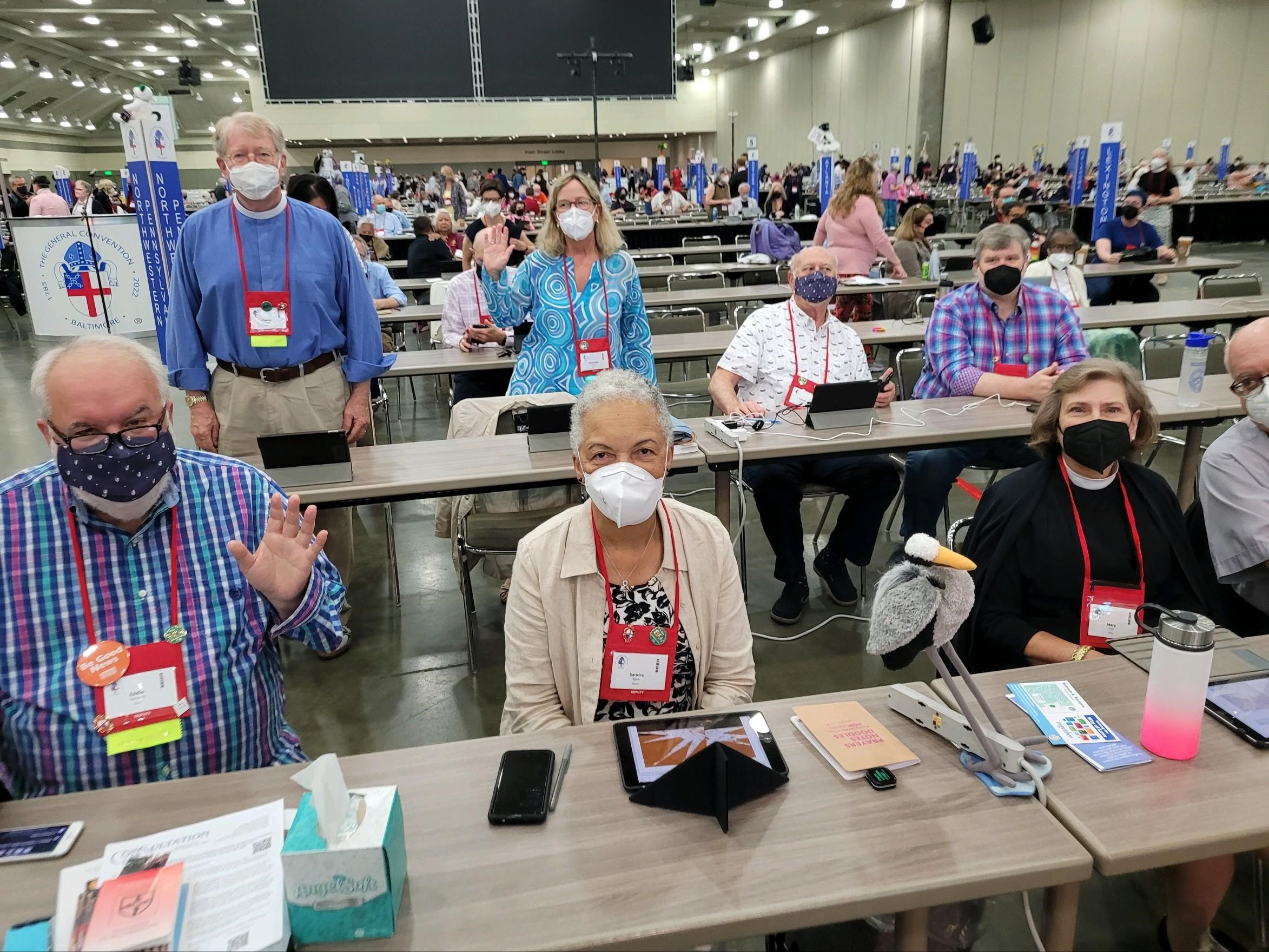 Here are some thoughts re GC2022:
The surprise tribute to President Jennings on Sunday afternoon. It was great fun watching her reactions to the humorous, often raucous presentations giving lovingly to a very great person for her service to the Episcopal Church and all of us.
It was gratifying to see such a large contingent of younger people active in leadership roles in the church including the election of Julia Ayala Harris as President of the House of Deputies. A bright future for the Episcopal Church was evident in the energy and enthusiasm flowing from them.
Both the startup for the Episcopal Coalition for Racial Equity and Justice and the Review of Episcopal-run Indigenous Boarding Schools were approved and have funds allocated in the 2023-2024 budget.
– Sandy Bjork
I loved sharing worship with 800 of my besties!
Bishop Suttons sermon provides great guide posts for important work to think about now.
Streamlining the budget process was super important. It is a hard process made more efficient by removing redundancy. While all cooks have something to add, we had too many cooks.
– Charlotte Meyer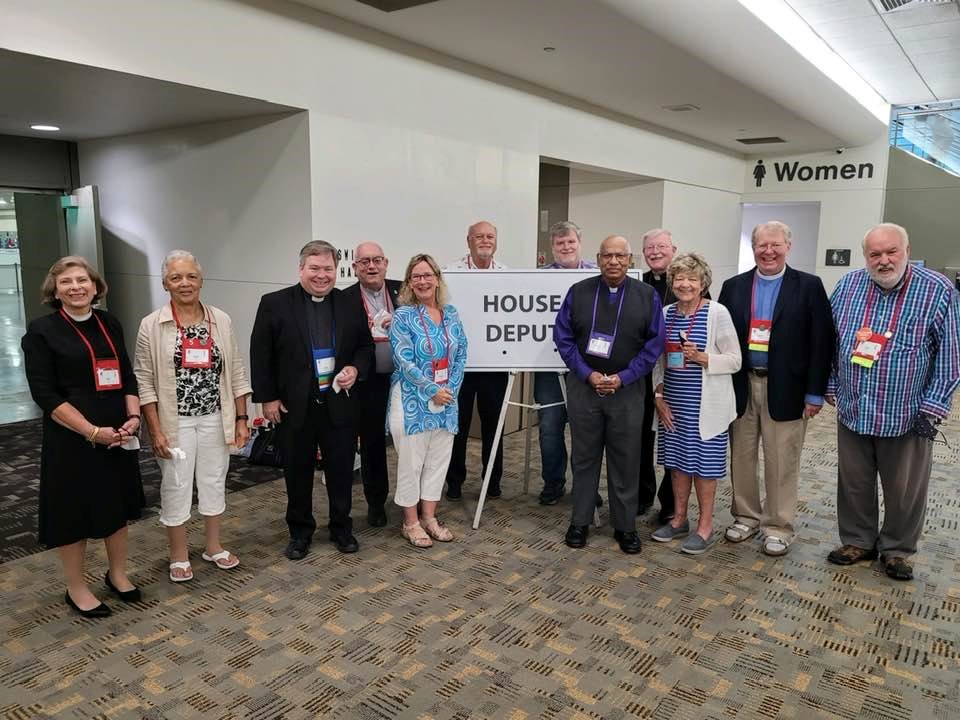 I saw somebody I knew from almost every diocese in which I've served (7)!
The passion and enthusiasm of the deputies were signs of life and joy.
Redefining the concept of "Prayer Book" is significant and reflects our present as the printed page reflected the latest tech in its time.
– Frank St. Amour+
The Church's trajectory has been and is toward love, justice, and inclusion. I wept everyday in reaction to something that was said or to what I witnessed, otherwise. We heard four excellent, daily sermons:
– PB Michael Curry
– PHOD Rev. Gay Jennings
– Bishop of Maryland, Eugene Sutton
– Deputy Julia Ayala Harris, Diocese of Oklahoma, then-President-elect of the HoD
And not only did the House of Deputies elect a woman of Latin descent, in her early-50s, as our new President, our newly-elected VP is a woman of Native American descent! They will be our leaders for the next 8 years!!  TEC operates democratically & with transparency!
– Eddie Vance 
This was my first time as a deputy to General Convention and it was an amazing experience. My most treasured memories are how helpful and kind everyone was to a newcomer. I was very inspired by our church's dedication to love and seek justice for those who have suffered from institutional racism and other forms of prejudice and oppression. Every day I shed a tear or two in gratitude and pride for the work of the convention. It was truly and honor to be part of it all.
– From Rev. Mary Friel