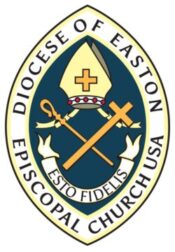 ONE HUNDRED FIFTY-SIXTH ANNUAL CONVENTION
156th ANNUAL CONVENTION OF THE DIOCESE OF EASTON
Imaginative Leadership & Congregational Vitality in Re-emergence and Resurrection:
A Mission and Ministry Imperative for the 21st Century Church.
VIEW THE LATEST CONVENTION NEWS:
Bishop's Communication on Diocesan Convention The Diocese of Easton is in the early stages of preparation for its 156th Annual Diocesan Convention scheduled for March 7-9, 2024. Thanks to the proactive work of the Diocesan Convention Committee, which has been meeting...
Committee on Resolutions for Debate
Gordon Fronk (Middle Convocation) – Chair
The Rev. Michael Lokey (Southern Convocation) – Clergy Member
The Rev. Nicholas Sichangi (Northern Convocation) – Clergy Member
Debra Dragone  (Northern Convocation) – Lay Member
Ex Officio: The Venerable Laura Harbaugh (Secretary to Convention)
*Proposed Resolutions for Debate are to be submitted pursuant to Canon 512.3 (a).
Committee on Nominations
Sally Rifenburg, Chair, Northern Convocation
Nancy Robson, Northern Convocation
The Very Rev. Frank St. Amour, Northern Convocation
The Very Rev. David Michaud, Southern Convocation
Granville Blades, Esq. Middle Convocation
Nancy Linck, Southern Convocation
Dean of Middle Convoction – TBA