Becoming Better Disciples of Jesus – 2020 Convention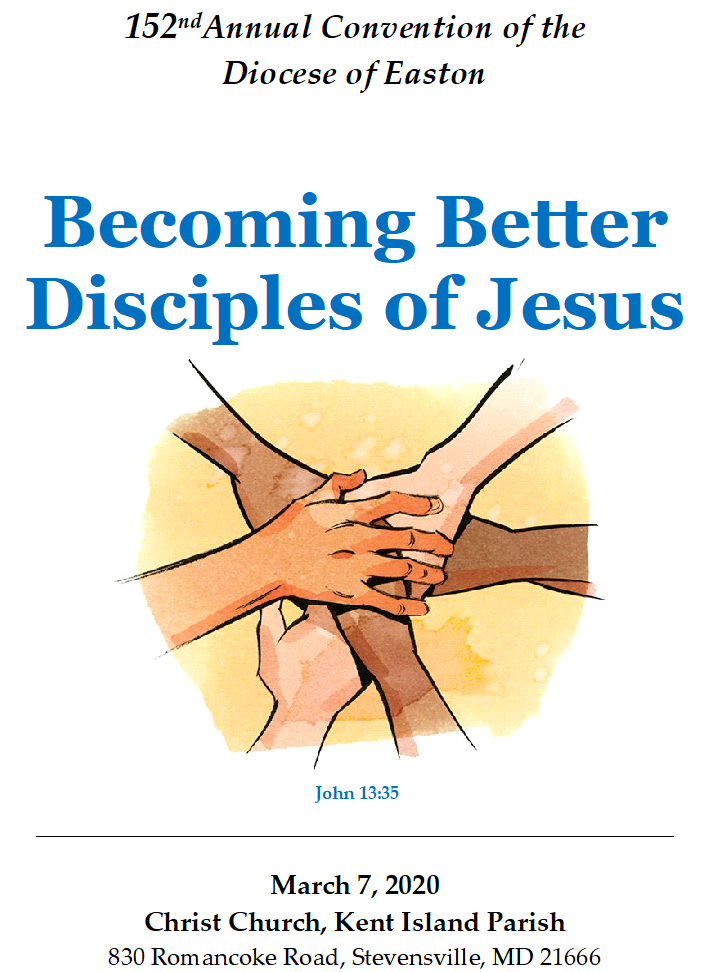 Documents / Links:
Credentials to the Convention – 2020
Convention Registration Cover 2020 
Post-Convention Dinner at Camp Wright – CANCELLED
RECENT NEWS:
2/1/2020: CONVENTION 2020 NON PERISHABLE FOOD DRIVE!!  Convention attendees are encouraged to bring non-perishable food items to Convention 2020 to help the food pantry at St. Andrew's Church in Hurlock. Congregations are also invited to participate by hosting a food drive and sending the collected items with their delegates to Convention.  Items  from the "most wanted" donations list include: Cereal, Canned Goods, Mac & Cheese and other non-perishable basics.  They are also looking for Toiletries, Tissues, Toilet Paper and Feminine Hygiene Products.  Please no fresh items (including bread) or any outdated items.  Let's work together and fill those shelves!
OVERVIEW: Diocesan Convention 2020 is scheduled for March 7th at Christ Church Kent Island. Information will be uploaded to this page as it becomes available.
Snow Date – Saturday, March 14, 2020
The Episcopal Church of the Eastern Shore of Maryland gathers once a year to govern the parishes that make up the Diocese of Easton. We worship, we celebrate, we listen, we speak, we debate, and we vote. It is an important event with much work that needs to be done. It is also where the Bishop makes his annual address. Diocesan Convention is a balance between being the church and dreaming the church, and there is a time and place for both.
Each church in the Diocese selects delegates and alternates to vote, along with clergy, on behalf of their parish.  Others are welcome as non-voting guests.
No refunds after 3/4/2020. Registrations must be submitted to Bray House no later than February 13, 2020. No refunds can be given unless 72 hours notice is given.
REGISTRATION FEES: (please be sure to select the correct category when registering):
The Convention Registration Fee for Voting Clergy, Delegates and Alternates will be $80.00. It includes: Breakfast, Lunch Buffet, Refreshment Breaks and business session materials. For Non-Voting Clergy and Guests the Registration Fee will be $32.50 which includes: Breakfast, Lunch Buffet, and Refreshment Breaks.
Registrations must be submitted to Bray House no later than FEBRUARY 13, 2020. No refunds can be given unless 72 hours notice is given.
Clergy                                      $80
Delegate                                   $80
Alternate                                  $80
Non-Voting Clergy/Guest         $32.50
Deacon/Priest Postulants           $50
EACH INDIVIDUAL ATTENDING CONVENTION NEEDS TO COMPLETE THE REGISTRATION FOR THEMSELVES. This includes clergy, lay delegates, visitors, spouses etc. We will be collecting important information to better prepare for convention. If the parish is paying fees, the registrant can choose to "pay by mail/in person" and submit their confirmation to the parish for payment.
Please send this link to those registering (www.dioceseofeaston.org/convention2020registration).
From this point forward, all correspondence and materials will be sent electronically. If you, your parish, or anyone in your delegation does not have access to email or the internet, we are happy to send paper copies of all materials.  Please just let us know  (lynn@dioceseofeaston.org ; 410-822-1919).
BREAKFAST BUFFET Served from 8am – 9:15am
LUNCH BUFFET:
Accommodations can be made for Gluten allergies and other special dietary requirements.
Buffet includes Spring Herb Quinoa Salad, Garden Salad with Peppercorn Ranch & Balsamic Vinaigrette, Potato Chips, Fresh Baked Chocolate Chip Cookies, Gluten Free Cookies, Fruit Infused Water, Pomegranate Lemonade, Citrus Iced Tea.
Lunch Choices (you will be asked to select your choice during registration):
Roast Beef and Cheddar Sandwich with Caramelized Onions, Mixed Greens and Horseradish Cream.
Cranberry Jerk Chicken Salad on Croissant.
Vegetarian Option – Roasted Veggie Wrap with Mixed Greens and Hummus.
ON-SITE CHILD CARE PROVIDED – Opens at 9:15 am (0-12 years-old)
POST-CONVENTION DINNER – Join us for a post-Convention Fellowship and Dinner at Camp Wright. Gather with other delegates and friends, learn more about Camp Wright and enjoy the sunset a delicious meal. The event will begin immediately following the business meeting with dinner served at 5:30.  Appetizers, dinner, beverages and CW made desserts will be served.  Contact Julia Connelly with questions, director@campwright.com.  Tickets sold separately – click here.
SAVE THE DATE! Mission & Ministry Summit
Invite – Welcome – Connect
Keynote Speaker – Mary Parmer
Two locations offered:
Friday, September 25, 2020 – Holy Trinity, Oxford
Saturday, September 26, 2020 – St. Alban's, Salisbury