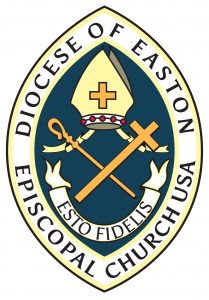 Diocesan Memo
From: Bishop & Diocesan Council 
To:       Diocesan of Easton Family
Date:   February 13, 2019
Re: Diocesan of Easton Sesquicentennial Honorees
The culmination observances of the Sesquicentennial Anniversary at the Hyatt Chesapeake Hotel of the Diocese of Easton includes an Honoree Banquet on Saturday, March 2 at 6:00pm. We will be recognizing 19 members of the diocesan family chosen by a subcommittee of Diocesan Council from persons whose names were submitted either by their parish and/or their convocation. The Council worked over a six-month period to encourage as many people and congregations as possible to submit names to be considered.
Here are the honorees to be recognized:
Northern Convocation: 
C Eddie Vance
Myron Richardson
Elizabeth 'Libby' Rice
Mary Booth Davis
Chris Maxwell
Middle Convocation:
Charlotte "Peaches" Meyer
Albert Smith
Kathleen Wise-Ridley
Lynn Anstatt
Southern Convocation:
Bonnie Caudell
Carrie Connelly
Pat Layton
Two members will receive the Distinguished Service Award:
Nancy Dick and Doris Hughes
Five clergy will also receive Honoree Award:
The Right Reverend James "Bud" Shand
The Reverend Dr. Robert 'Bob' Gribbon
The Very Reverend Dr. Frieda Malcolm
The Very Reverend Charles Osberger
The Reverend Nathaniel Pierce
Parishes and individuals are encouraged to show their support for their honorees by coming to the Honorees Banquet which is open to all members of the diocese:
The Honorees Gala Banquet includes banquet fare prepared by the Hyatt Chesapeake and a special performance of "Harriet Tubman: The Chosen One" by Gwendolyn Briley Strand.  The evening is held in celebration of and will be honoring members of the diocesan family for their long, dedicated and faithful service to the diocese.
"Harriet Tubman – The Chosen One" is a dynamic one-woman show that takes its audience on one of the many journeys Ms. Tubman took on the Underground Railroad. Watch Ms. Briley-Strand, change into more than a dozen characters, right before your eyes. Listen as she sings spiritual after spiritual showing how the enslaved used this "secret language" to communicate with one another. Join Ms. Briley-Strand as she transports you into a time you've only read about.
 The cost of ticket is $50 and can be purchased by calling the office at 410-822-1919.