"Let's continue this monthly!" was the rousing and unanimous vote heard from all the Agape kids and leaders at the end of a week of zoom calls, dubbed "Camp in a Box". The calls, which took place at 10am every morning from July 6th-9th, were designed to complement a packed box that each student received the week before.
Grounded in unconditional love, Agape Ministry's mission is providing experiences which model healthy relationships to children whose families have been affected by incarceration. That mission is carried out through two main events for Agape children ages 7-17, a Christmas Party and a week at Camp Wright. Without the possibility of a week at camp this summer, the Agape Committee knew that some creative thinking was required to keep our Agape family together.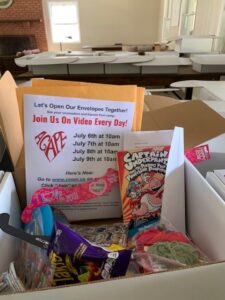 The Agape Committee spent May planning and ordering items to match the theme, "SEEN (you are seen by God), SEEING (where you can see God), SEE (helping others see God)". Then in June they joined with Camp Wright staff for a box packing event. The boxes included, among other things, sealed envelopes with activities for each Zoom day and theme, camp snacks (including smores), a carefully selected book from the Agape "book nook", and specially crafted items of prayer and love from members of our Diocese.
"During this time of time of pandemic, the world seems so upside-down. So many things to deal with, so many stresses on our lives. What a welcome respite to enter the "Zoomisphere" and see the smiling faces of the Agape children. Our time together brought laughs and learnings, and although we did not share a physical space, we shared something special — time. It proved so special that we have talked about making a time monthly to join together — not as another burden put on the calendar, but as time to look forward to. The pandemic has hidden within it some blessings and camp-in-the-box is one of them!" – The Very Rev. Michael Moyer
"Most of our concerns faded as one by one we were able to see the bright faces of our Agape campers as they entered our Zoom Room every day this week for Camp in a box. I think they were as happy to see us are we were to see them. After months of what ifs, we all shared some time together, had fun and reconnected with each other. It was an amazing break from weeks at home. Hope we can figure out a good way to stay connected and have more kids join in the activities." – Mrs. Carrie Connelly
"I had been almost dreading our Zoom sessions since I feared only one or two kids would join us. I am happy I was wrong. Everyone was so at ease chatting with the children. The hour was fully planned with backup plans if necessary. The games engaged them all but were not meanly competitive. The themed lessons were excellent and relevant to today plus allowing fidgeters to fidget. I'm not sure how easy it will be to come up with a monthly meeting but I have every confidence that this crew can do it if anyone can. I'm still waiting for prayerful doodling, part 2!" – Mrs. Pat Layton
We encourage you to check out the Agape webpage for more information on how you can join the team, make a donation, or enroll a student in our ministry.