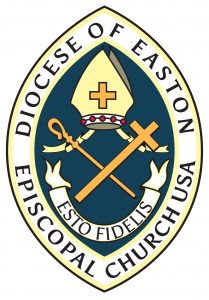 Bishop Launches Diocesan Covid 19 Pandemic
Preparedness and Response Task Force
The Bishop of Easton, The Right Rev. Santosh K. Marray, has launched the Diocesan Covid 19 Pandemic Preparedness and Response Task Force. The directive of the Task Force will be to develop a Protocol and/or Guidelines for the gradual return to In-Person Physical Worship in the diocese.
This initiative is in preparation for when In-Person Worship is once again permitted by the State of Maryland and the Center for Disease Control (CDC). It is imperative that the diocese acts in a responsible and healthy manner in our transition into this phase of our common life. Preparedness and proactive actions are reflective of a caring and loving church that takes seriously the health, safety and well-being of its membership. The bishop feels the work of this task force will be a demonstration of the collective wisdom of a significant representation from within the family and reflects a wide cross section of the faithful within our diocesan demographic.
It is anticipated that the task force will begin its work as early as next week after a zoom meeting with membership. The task force will draw inspiration and guidance from similar work done in our family of dioceses across the Episcopal Church. However, the eastern shore is a special community of God's beloved and as such the sensibilities of our geographical and demographic uniqueness should factor in to informing the work to be addressed.
The bishop wishes to offer his immense gratitude to the task force members for consenting to serve, especially the Honorable Justice David Mitchell, St. Alban's Parish, Salisbury, and the Reverend Mary Garner, Rector, St. Paul's Parish, Centreville, for agreeing to serve as Chair and Co-Chair respectively. The bishop is encouraging the diocese to keep the work of this task force in our prayers.
The following is a list of Task Force members:
Standing Committee: (Three) members
The Rev. Mary Gardner (Rector, St. Paul's Parish & Task Force Co-Chair)
Mr. John Dragone (Small Church Representative, Senior Warden of St. Clement's, Massey)
The Rev. Mark Delcuze (Diocesan Liturgical Commission Chairperson, Rector of Christ Church Kent Island)
Diocesan Council: (Three) members
The Honorable Justice David Mitchell (Task Force Chair)
The Rev. David Michaud (Task Force Secretary, Rector of St. Peter's Salisbury)
Dr. Lisa Webb (Vice-President Diocesan Council, Deacon Candidate)
Large Church Representative
The Rev. Dr. Bill Ortt (Rector of Christ Church, Easton)
Retired Clergy Representative
The Rev. Dr. Frieda Malcolm
Deans
The Very Rev. Charles Osberger (Dean, Middle Convocation)
The Very Rev. Michael Moyer (Dean, Southern Convocation)
The Very Rev. Henry Sabetti (Dean, Northern Convocation)
Staff Support:
The Rev. Canon Patrick Collins (Canon to the Ordinary)
Mrs. Joanne Fisher (Youth Missioner & Communication Officer)
Advisors:
Dr. George Curlin (Retired Epidemiologist with extensive experience in infectious disease. He has worked with the Center for Disease and the Cholera epidemic.)
Dr. Thomas De Marco (Peninsula Regional Hospital)

Ex-Officio
Mr. Ernie Cornbrooks, Esq. (Diocesan Chancellor)
The Right Rev. Santosh Marray (Diocesan Bishop)