15th Lambeth Conference of Bishops and Spouses
University of Kent, Canterbury, United Kingdom
Conference Theme: "God's Church for God's World" (I Peter)
A Summary of a Communion Living in Hope
A Poignant Moment in the Renewal of God's Project
 July 26 – August 8, 2022
 The Fifteenth Lambeth Conference of Bishops and Spouses is a unique gathering of Bishops and Spouses of the worldwide Anglican Communion. Convened every ten (10) years under the aegis of the Archbishop of Canterbury and his spouse. The previous gathering of such august body was convened in the summer of 2008. The 2020 Lambeth Conference was scheduled to take place in the summer of 2020. However, the COVID 19 pandemic delayed it by two years. It is noteworthy that ever since the Diocese of Easton was formally established in 1868 with the calling of its first bishop +Henry Lay our diocese has been a faithful contributor to the pursuit of a global communion. Bishop Lay attended Lambeth Conference in 1867 when he served as Missionary Bishop of Arkansas. As Bishop of Easton, he attended Lambeth Conference in 1878.   In 2008 Bishop Bud and Lynne Shand attended on behalf of DOE.
As your incumbent Diocesan Bishop, I am living into this established tradition as my predecessors and was honored and humbled and acceded to the request of the Lambeth Conference Planning Team to be a facilitator of one of the Bible Studies and Lambeth Calls Bishops' Group. My group was GROUP 5A. The accompanying photos offer a glimpse of my colleagues' group of bishops. The group also included Bishop Tim Thornton, (not in photo) retired bishop in the Church of England who was on the planning team. He and I have become close friends and colleagues. Over 650 bishops and 450 spouses including over 500 volunteers, staff and stewards were engaged in executing a very inspirational, energetic, consequential, and hopeful conference. The Archbishop of Canterbury, the Most Reverend and Honorable Justin Welby and his wife Caroline Welby should be commended for pioneering and executing one of the better organized Lambeth Conferences against the backdrop of a global pandemic-COVID 19. Yes, there were reports of bishops and spouses infected by the virus, however, the medical staff on hand did their very best to ensure all covid protocols were observed. Lynn and I took precautions and conducted frequent self-tests and masked up except when having meals and photo-ops.
I must confess that I went to the Lambeth Conference with certain apprehensions and concerns:
The future of the communion and the response of bishops opposed to certain human dignity decisions made by our church and other churches of the wider communion. Lambeth 1:10 on human sexuality was showing signs of pivoting to a place of reemergence precipitating divisions, exclusionary actions, and widespread impaired relationships. TEC is committed to be an inclusive church where the dignity of all humans is preserved and celebrated. This isn't true for other parts of the communion. Bishops from a few jurisdictions in the communion abstained from receiving the Sacrament of Holy Communion based on the advice of their primates. Lambeth dealt maturely by making space for all opinions by clearly embracing the concept that we are living in diversity, and it is our diversity that make us a profound force for Jesus and witnesses to the refrain that we are made in the image and likeness of God (imago Dei). Each is a beloved of God and unique in our creativity. We in the communion live and recognize our unity in diversity, autonomy in communion, each church's independence, and interdependence. As I have often reminded the church, the Anglican Communion is God's Project, it continues to be created and recreated, imagined, and reimagined and visioned and re-visioned by God to make it more like the face of God. I was relieved and motivated to witness that the 'bonds of affection' that defines our common life and relationship as churches in one communion is holding strong.
To gauge where the Spirit is leading this church – Diocese of Easton – in terms of how much PAROUSIA lines up in God's vision for God's church.
The common refrain all throughout the conference was: HOPE, NEW LIFE, REIMAGINATION, RENEWAL of the CHURCH, NEW APPROACHES to the time-tested gospel message, RECONCILATION, DISCIPLESHIP, EVANGELISM, and the FIVE MARKS of MISSION.
The Five marks of Mission was repackaged to TELL. TEACH. TEND. TRANSFORM. TREASURE. The diocesan family will be learning more about this renewed rebranding of the marks of mission.
The role of small dioceses/churches in God's plan of salvation. I was comforted to witness and hear that these so called 'expendable church' realities and configurations are the 'salvation story' across the communion and that the church is devoutly and faithfully served by small congregations in rural communities across the globe. We are historically and traditionally a small and rural church phenomenon.
I shared our Parousia Vision with many of my colleagues from across the communion. They were surprised to see God's vision for God's 'little gem' is way ahead of other dioceses in how we in Easton are responding to the challenges of a global church witness.
I returned reinvigorated, renewed, revitalized, and reassured of Jesus' preeminence role as the alpha and omega of all we believe and live into. I returned more hopeful than ever of the Churches future and role in the 21st century and beyond.
Lambeth Conference invited bishops and spouses to spend time in prayer and study on I Peter. Surprisingly, the richness in inspiration this epistle offers in all its myriad challenges for the first century era was received with gratitude and grace. It was written for an exilic and alien audience of Christians living in persecution and alienation as refugees and strangers in a foreign land. The Archbishop of Canterbury delivered some masterpiece expositions before bishops and spouses broke off to their study groups. I encourage you to access these expositions and his three keynote addresses, they are worth listening to and reflecting upon: www.lambethconference.org.
The afternoon sessions were dedicated to reflecting on Lambeth Calls. Interestingly, they were Calls and not resolutions. I must confess I am the least qualified in this area, but from my observation and limited perspective 'resolutions' by their very nature are coercive and divisive with people taking sides, fraught with manipulative and unhealthy lobbying often defining its toxic practice. 'Call' is more spiritual and Christ-centered that engenders a deep sense of prayerful reflective consideration. It speaks to the language of the church. As Christians we are 'called' to various offices in the church, the essence of 'call' requires deep contrition, humility with vocation ramifications. The 'call' to the ordained ministry is a discernment that exacts from individuals' long hours of 'wrestling' with the Spirit in prayerful emptiness and humble contrition. I will encourage this diocese to seriously consider using this divinely inspired term to describe the way this church approaches matter of faith as it moves forward.
Lambeth Calls bishops reflected on, affirmed, and unanimously supported were on:
Mission and Evangelism (2) Safe Church (3) Anglican Identity (4) Reconciliation (5) Human Dignity (6) Christian Unity & Interfaith Relations (7) Discipleship (8) Environment (9) Sustainable Development (10) Science & Faith
Worship at Lambeth was spectacular, awe-inspiring, heavenly, beatific, and glorious. Worship was celebrated and led by bishops and spouses from provinces across the communion. The music ministry was unbelievable and kept worshippers calling for more. The Music Ministry team led songs and hymns in every language used in the provinces that offered worship and to the amazement of everyone, although Anglocentric in orientation, was exceptionally majestic singing in every language and tongue worship was led on a particular day. Lynn and I attended every worship offering in the morning and evening. We just couldn't have enough of it.
Seminars on various topics related to various themes in the Church and world were offered as optional events. The Diocese of Easton attended seminars on Prayer – Thy Kingdom Come; Reconciliation; Evangelism & Discipleship & Canon Law – Launching of the Second Edition of the Principles of Canon Law in the Anglican Communion. I was able to reconnect with alumni in my Canon Law class.
DOE engaged in conversations with bishops of other provinces exploring companion relation opportunities.
DOE reconnected with ordaining bishops of the Province of the Indian Ocean.
Responded to a request to assist in purchasing clergy vestments, books and Lambeth Bishops and Spouses group photos for bishops in financially challenging areas of the communion and granted monetary gifts to some bishops from other parts of the communion, "to whom much is given, much is required" (Luke 12:48).
Meals were good but the distance to the cafeteria was taxing. Lynn and I must have walked 50 miles in the twelve days – no complaint about getting our 'steps' in.
In concluding, the diocesan family will be benefiting much from learnings, exposure, and relationships at Lambeth Conference 2022. Lambeth was a conference in repairing the impaired image of fellowship within the communion. As the Archbishop of York, the Most Reverend Stephen Cottrell stated, "some years ago they were about leaving the communion, now the talk is wanting to get into the communion".
+SAN
August 17, 2022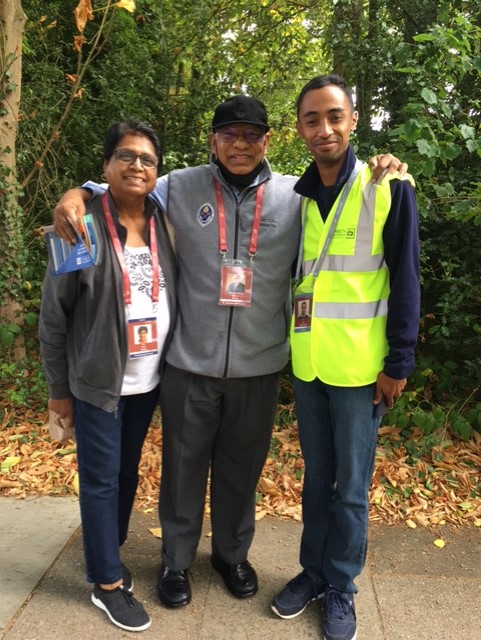 San and Lynn with Marc Ranarivelo , one of the many young Lambeth Stewards across the Anglican Communion whose role was to ensure bishops and spouses were offered the best possible assistance. Bishop San was one of the consecrating bishops for Marc's father, the Right Rev. Joana Ranarivelo when he was consecrated coadjutor Bishop for Antananarivo, Madagascar.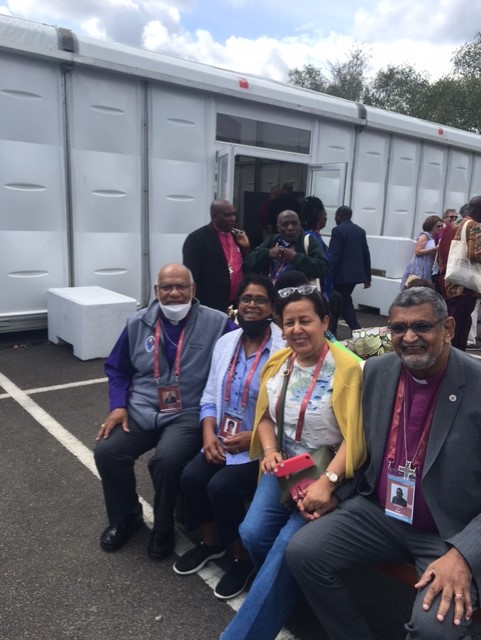 Bishop San and Lynn with Archbishop Ian and Kamila Ernest. Archbishop Ernest was Primate of the Indian Ocean when San was Bishop of Seychelles.  He is now the Director of the Anglican Center in Rome.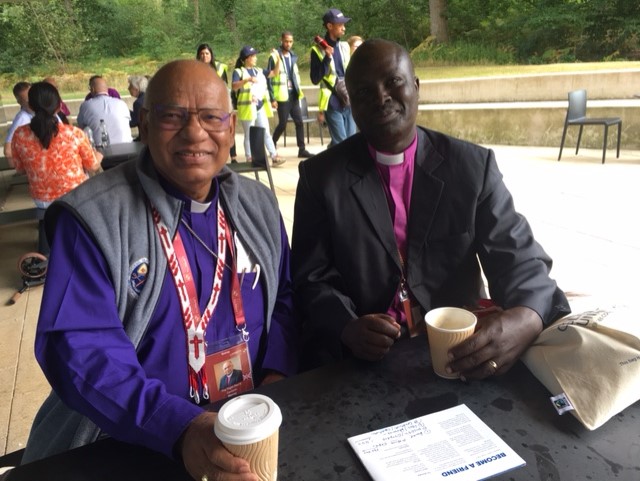 San with a colleague bishop from South Sudan.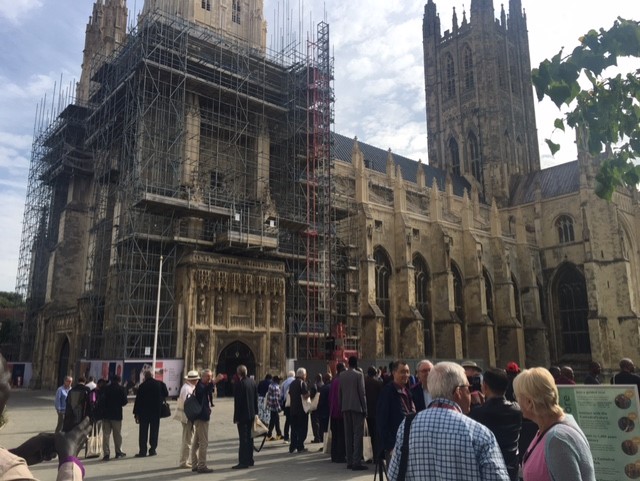 Canterbury Cathedral. The home of Anglicanism.  Bishop's gathering for the first of two days of the Bishop's Retreat.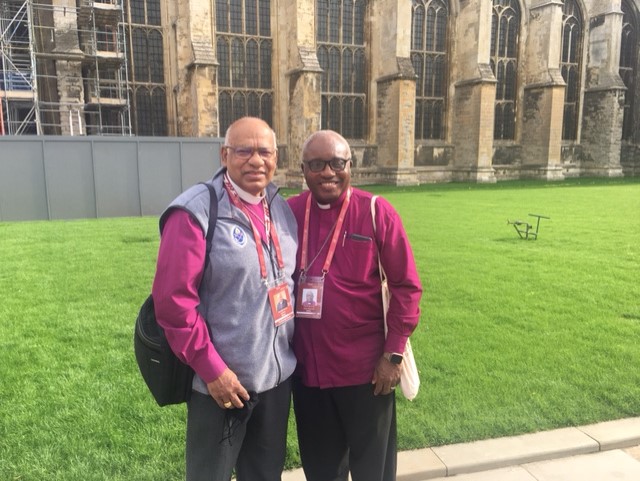 San and Bishop Victor Atta-Baffoe, Bishop of Cape Coast, Ghana.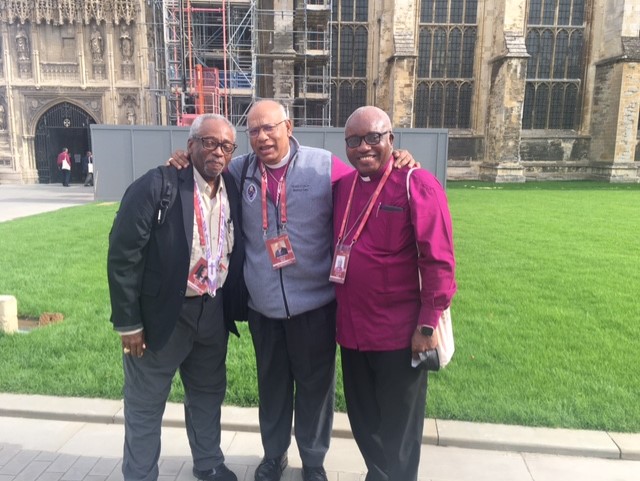 Presiding Bishop Curry, San, and Bishop Victor in front of Canterbury Cathedral prior to the commencement of the first of two days at the Bishops' Retreat in Canterbury Cathedral.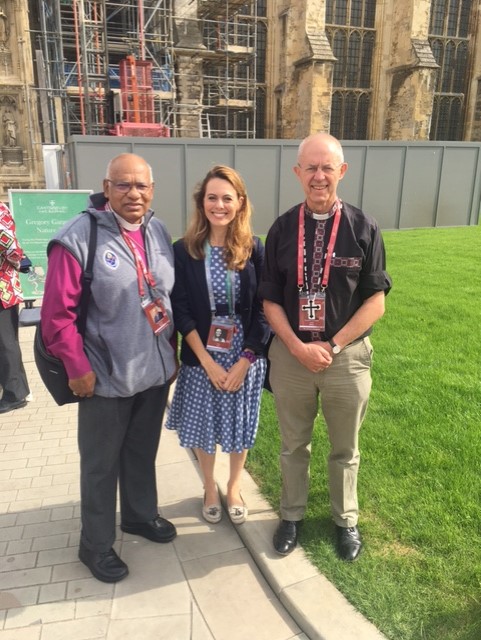 San with Keira Phyo of the Difference Initiative (some of our parishes have been engaging with this program) and the Archbishop of Canterbury in front of Canterbury Cathedral.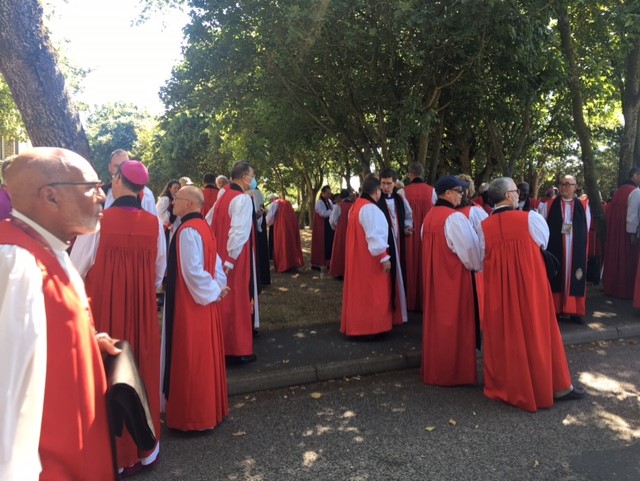 Bishops gathering for the bishops and spouses group photos.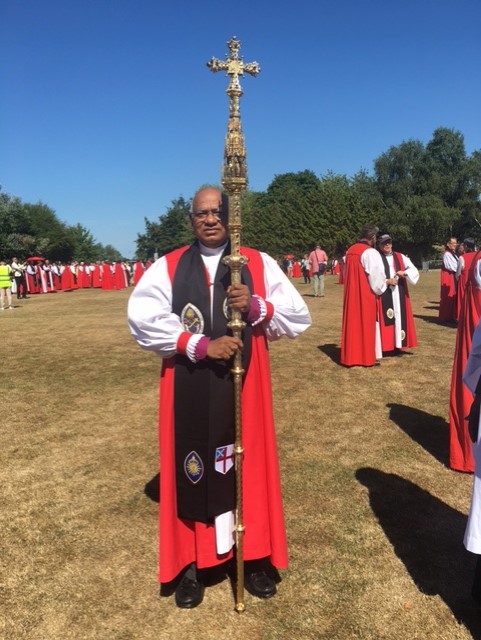 Bishop San holding Archbishop of Canterbury's Primatial Cross.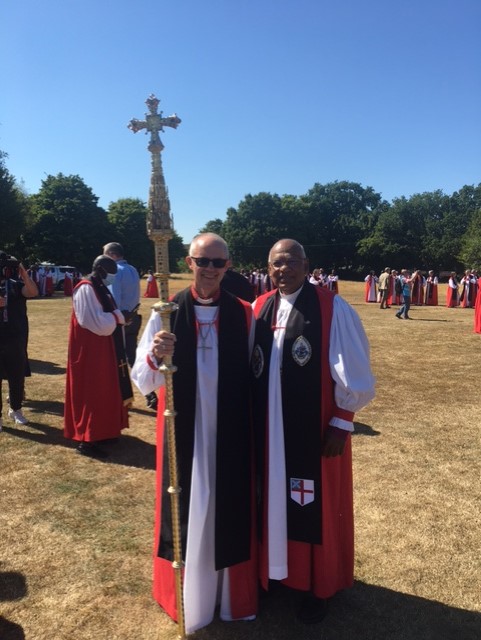 San and Archbishop of Canterbury with Primatial Cross. The Archbishop of Canterbury Primatial Cross seen in the photo is the symbol of the office of the ABC and his status as Primus inter pares – Latin for first among equals.  This is a replica of the original cross and a gift from the Diocese of Truro, England, 1897.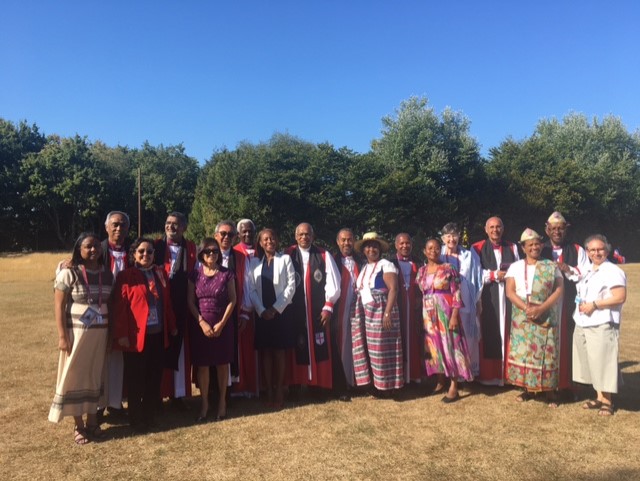 Bishop San with bishops and spouses of the Province of the Indian Ocean.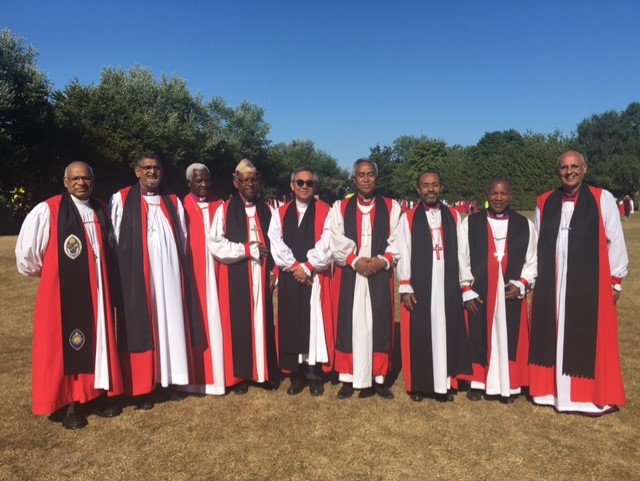 Bishop San with bishops of the Province of the Indian Ocean and the Director of the Anglican Center in Rome.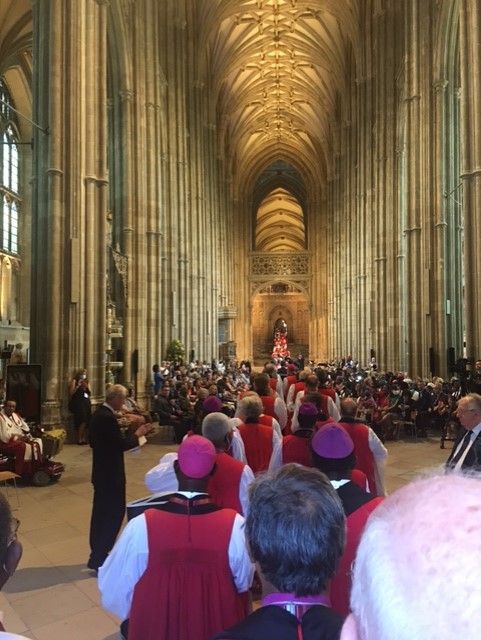 Bishop processing into Canterbury Cathedral for Lambeth opening Eucharist.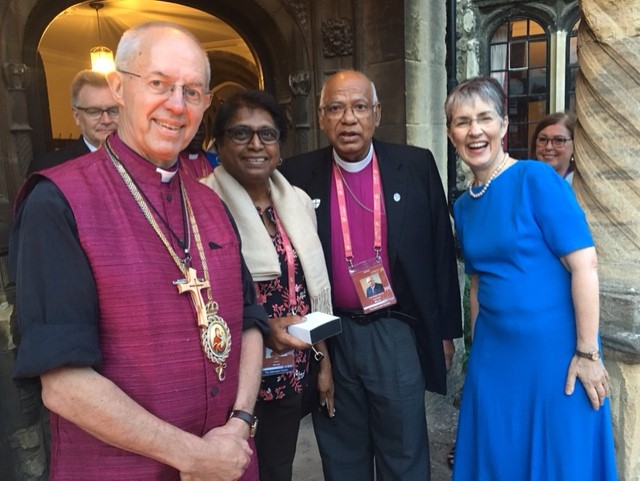 San and Lynn with Archbishop of Canterbury and his wife Caroline Welby at their residence in Canterbury for a reception hosted by Archbishop Justin and Caroline Welby.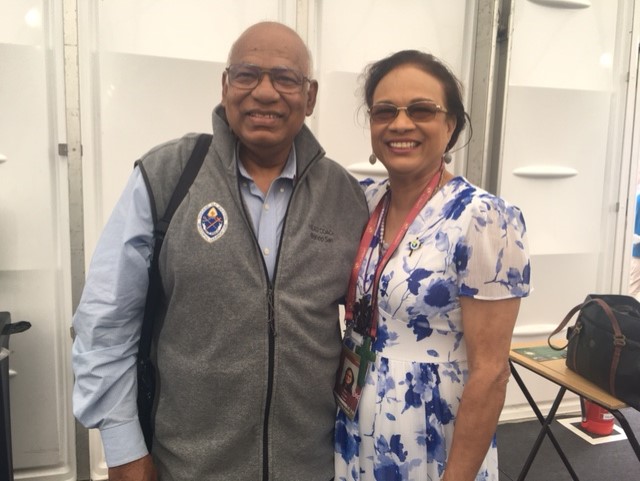 San with Sharon Harper, President of the Worldwide Mothers Union. Sharon is a longtime friend of San and Lynn and like San and Lynn hails from Guyana. Sheran is the first non-UK person to hold this prestigious office in the Anglican Communion.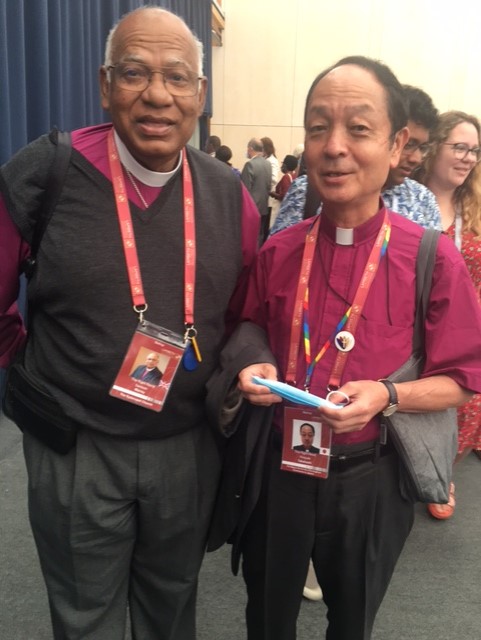 Bishop San with the Bishop of Tokyo Bishop Francis Xavier Hiroyuki Takahashi. Both are the bishops of the Rev. Canon Michael Moyer who is currently serving in the Diocese of Tokyo.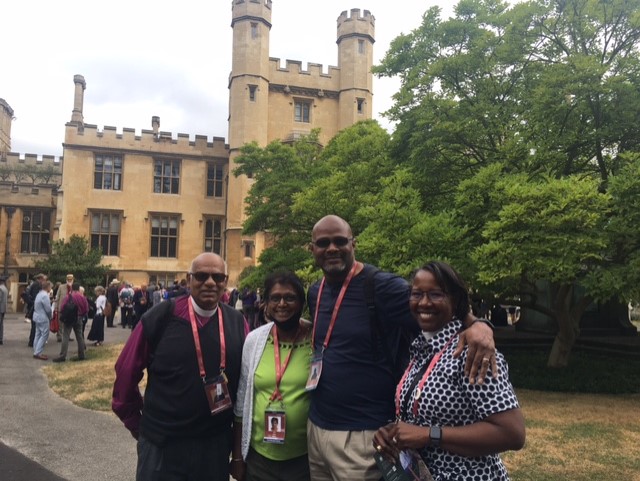 Bishop and Lynn in front of Lambeth Palace with Bishop Jennifer Baskerville-Burrows and her husband Harrison. Bishop Jennifer is the Bishop of Indianapolis, and her spouse is the surrogate son of San. Harrison was San's youth leader in the Parishes of St. Simon – By – the Sea and St. Anne North Abaco, Bahamas.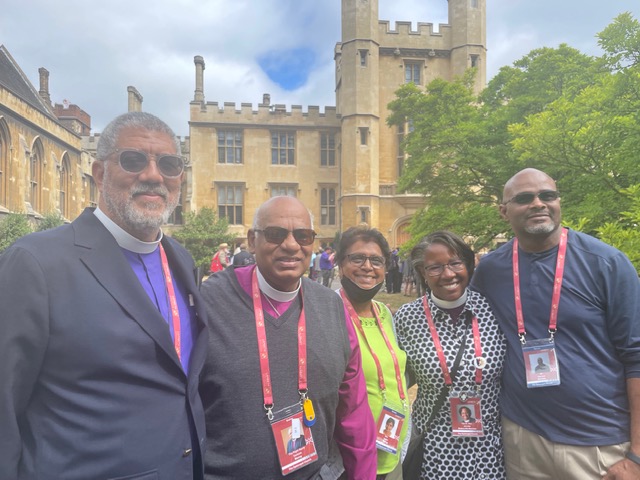 Bishop San & Lynn with Bishop Baskerville-Burrows, Harrison, and Bishop Robert Wright, Bishop of Atlanta.
On the grounds of Lambeth Palace for London Day.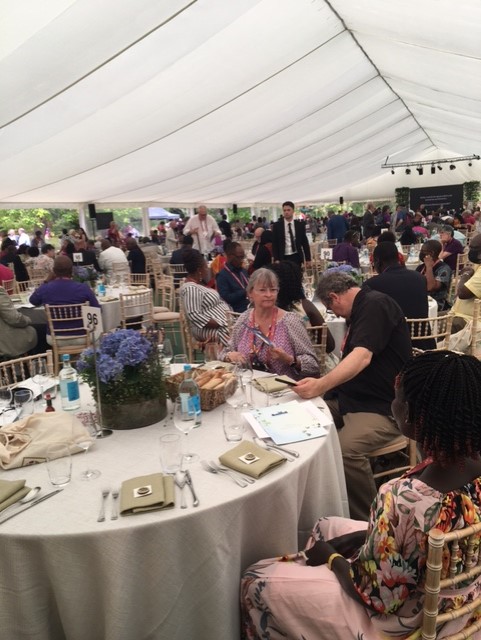 Lunch at Lambeth Palace for London Day.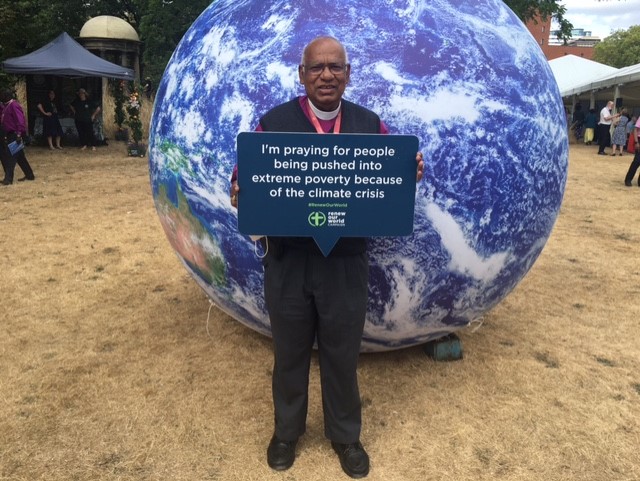 Praying for climate change.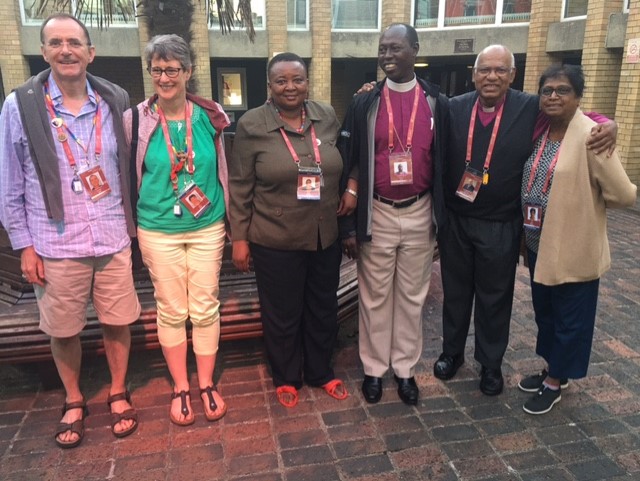 Dinner with Bishop Swift and his wife Mary from the Church of Scotland and Archbishop Samuel Enosa Peni of South Sudan and his wife Aida at a dinner meeting discussing a possible three-way companionship between the three diocese.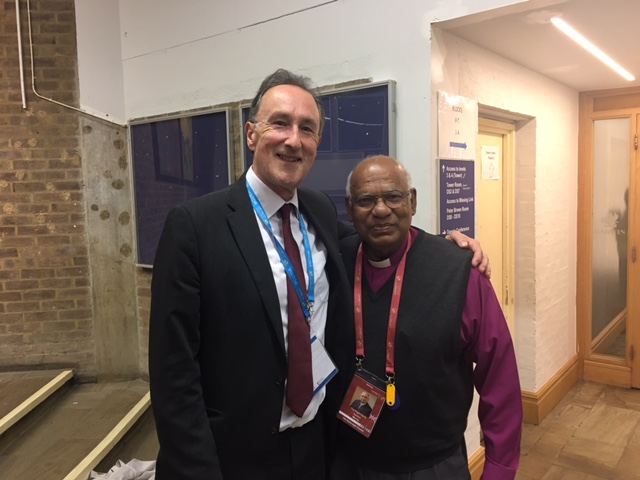 San with Professor Norman Doe, Bishop San's Canon Law professor while at Cardiff University, Wales.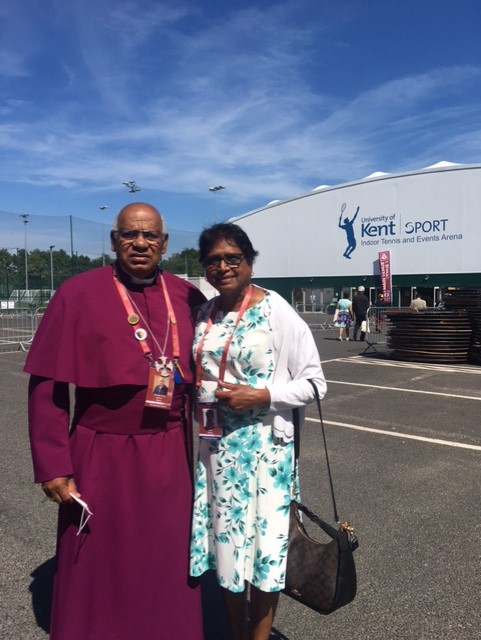 Getting ready to join the coach to Canterbury Cathedral for closing eucharist.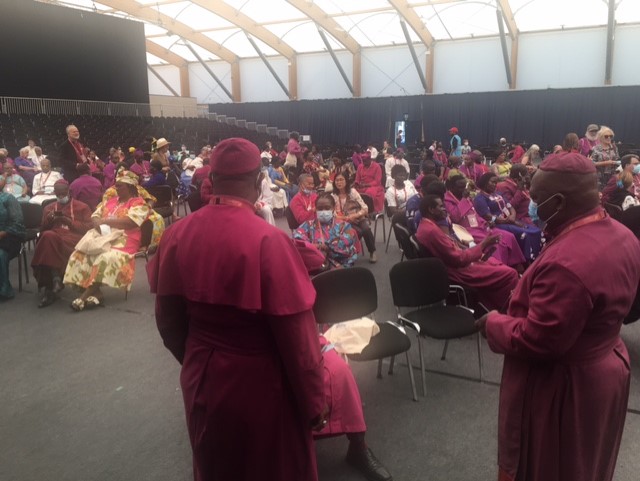 Bishops waiting to board the coach to Canterbury Cathedral.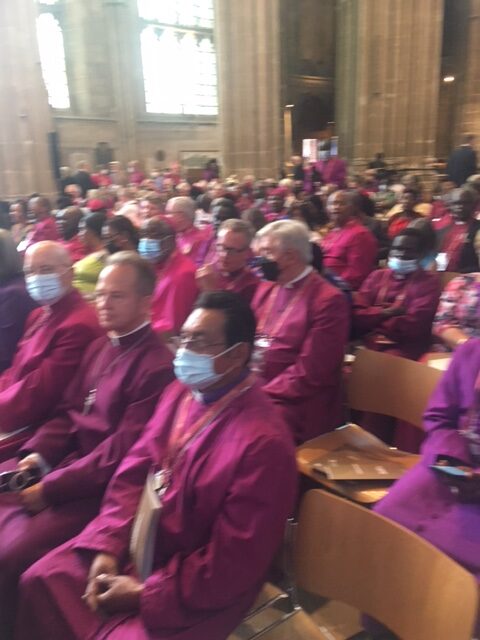 Bishop's awaiting commencement of the closing service.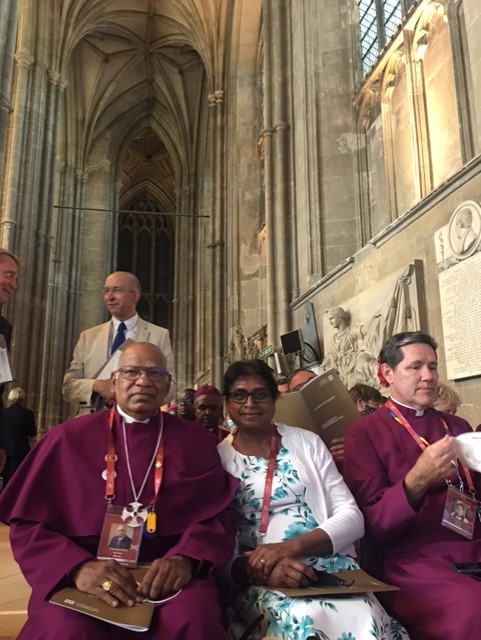 Bishop San and Lynn awaiting commencement of the closing service.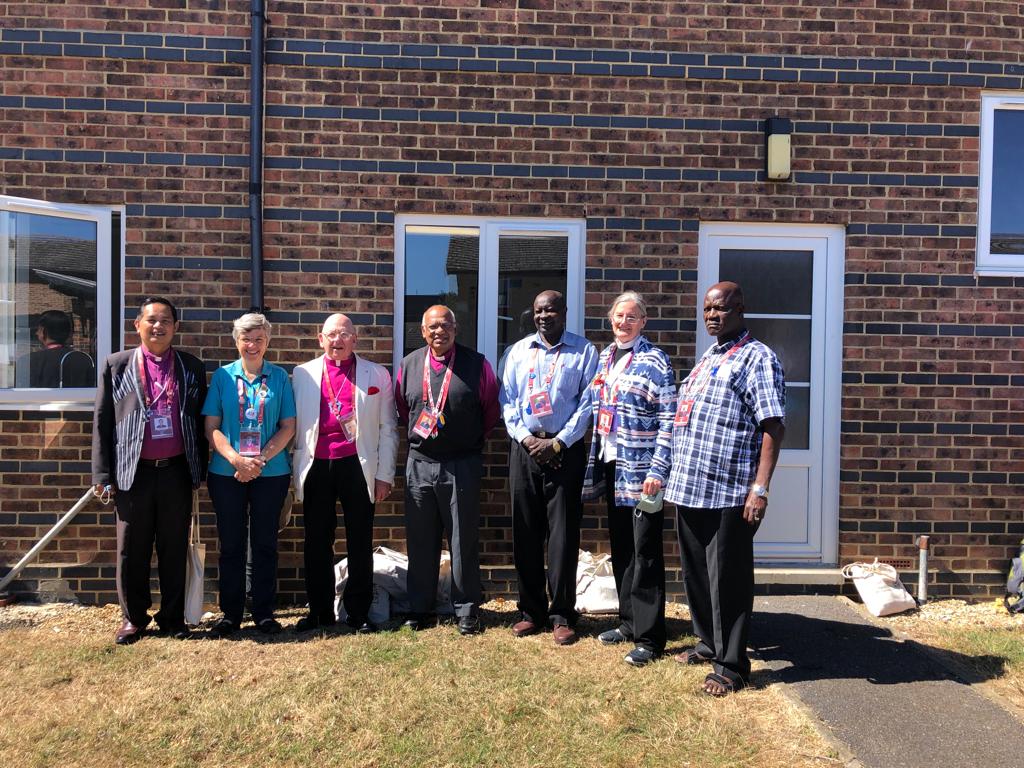 Bishop San's Bible Study Group 5A and Lambeth Calls Group 5A.
Left to right Bishop Nestor, Philippines; Bishop Sonia, New Castle, Australia; Bishop Pearson, Glasgow, Scotland; Bishop San; Archbishop Ezkiel, Sudan; Bishop Stebbins, Montana and Bishop Joshua, Kenya.