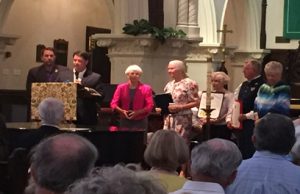 On September 16, 2017 members of Christ Episcopal Church of Cambridge, Great Choptank Parish, located on 601 Church Street in Cambridge, Maryland, celebrated the 325th Anniversary of their founding.
Visitors from as far away as Georgia came to help with the joyous event to remember the ancestors who had been faithful members at Christ Church and were buried in the historic graveyard.
Many Maryland government representatives presented certificates to Vestry members Julia Moore, Marylane Elmes, Phil Brohawn and Melanie Merryweather to honor the historic date. Presenting the certificates were: Delegate Johnny Mautz, State Senator Addie Echhardt, Delegate Chris Adams and Melissa Kelly representing Senator Chris Van Hollen.
Guests were greeted by Randy Welsh playing bagpipes and by parishioners wearing replicas of clothing from the 1600's.
Master of Ceremonies and church member Senator Addie Eckhardt lead the program that began with a history of the church given by Fr. Dunlap of Old Trinity Church. The antique silver pieces used for services were featured with the help of Jeanne and Patsy Holtz. Barbara Hubbard played music on the Casavaunt Organ. Malcolm McKnight gave a history of the stunning stained glass windows.
Melanie Merryweather guided groups through the historic cemetery pointing out the graves of early governors of Maryland. She also pointed out war veterans' headstones from the American Revolution, the War of 1812, the Civil War, the war in Viet Nam and the World Wars.
Those who visited will be remembered by future generations by having their signatures included in an engraved guest book. A reception was held at Whatley Hall after the presentation.
Remembrance of the 325th Anniversary of the Great Choptank Parish was possible due to the tireless efforts and direction of Cookie Brohawn and many volunteers from Christ Church.
Christ Episcopal Church continued the celebration the following day, September 17, 2017, with The Reverends Christine and Paul Mottl conducting a replication of a service that would have been common during the founding period of the 1600s.
Christ Church invites everyone to come and worship together on Sundays at 9:00 am. For more information contact the Church office at 410-228-3161.