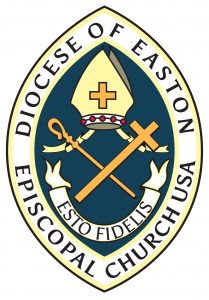 A Solemn Call to Give Generously to Camp Wright
Camp Wright has been a key ministry in the Diocese of Easton for 90 years. Just last summer alone, Camp Wright ministered to over 1700 children, youth, and young adults of various faith backgrounds and experiences. These participants were prayed for, reminded of Jesus' deep and sustaining love for them, and welcomed into authentic community. The nature of the property and the staff is to serve children and youth, to welcome their hustle and bustle, to meet their many needs, to engage them in play, and to join them in learning, worship, and wonder.  But, this summer, the cabins will be empty. No campers will leave wet towels or lunchboxes under the pavilion. The kayaks will remain stacked on the boat rack. Only the songbirds and the waves will sing songs of praise in the chapel by the Bay. Covid-19 has prompted the Camp Wright Committee and Staff to suspend summer camp operations to preserve the health and safety of the campers, staff, their families, and the larger community.
This decision was not an easy one to make. Julia and I have discussed the possibilities ahead and the financial risk related to closing camp for the summer.  However, even in the face of financial uncertainty, the call to extend Christ's unconditional love to Camp's participants outweighs the risk of having camp programs as we have always known them in pre-pandemic years. My hope and prayer is that the faithful family of the Diocese of Easton, our extended family and mission and ministry partners will extend financial support to Camp Wright in order to overcome the significant financial impact created with the loss of registration income.
In this global COVID-19 Pandemic with so many unknowns and uncertainties, and in accordance with one of our core values as a Prayer Centered Church and Mission-Shaped Diocese that Welcomes All, Shares Jesus' Love and Serves the World, the decision was the most loving and caring one at this time. Camp Wright remains a vibrant and wholesome ministry on the Eastern Shore and this ministry will most certainly continue to be defined by its faithfulness, commitment, and dedication to shaping and forming community life among all ages. Camp Wright isn't going anywhere, rather acting as a responsible steward in the protection of the health and well-being of campers and their siblings. Out of an abundance of caution, Camp Wright's decision should be seen as a laudable one which I on behalf of the diocese fully endorse.
You may not know that Camp Wright is self-sustaining and does not have any financial burden on our diocese. This is a critical moment in history for Camp Wright. This winter the Finance Committee approved Camp Wright's budget that projected a $50,000 gain for 2020. With the cancellation of Camp Programs and the Fall Rental Season, Camp Wright is now facing a $200,000 loss.
The good work of Camp Wright is well known across Episcopal Camp and Conference Centers. In this diocese, we love Camp Wright and are highly complementary of the evangelism, formation and transformation that happens there. Please join me in prayerfully supporting Camp Wright financially at this unprecedented time in history. Please give as you are able to support them through this crisis.  Your generous gift is tax exempt. A link to give is here: www.givebutter.com/camp-wright. You can also mail a check to them directly 400 Camp Wright Lane, Stevensville, MD 21666.
More information about Covid-19 and its impacts on our Diocesan camp can be found here: www.campwright.com/covid-19-hub.
With every gratitude and blessing,
The Right Rev. Santosh K. Marray
XI Bishop of Easton
Mrs. Julia Connelly Zahn
Director, Camp Wright