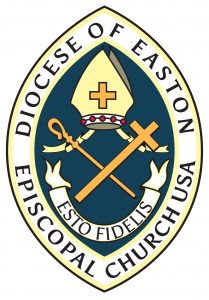 Diocesan Annual Apportionment and Budget Allocation 2023
"For everyone to whom much has been given, much will be required; and from whom much has been entrusted, even more will be demanded." (Luke 12: 48)
 My beloved in Christ,
Greetings in our Lord and Savior's precious name!
As much as we are overtly conscious of the prevailing financial/economic challenges of our time, we are people of God who are faithful to our stewardship to almighty God. We are mindful of the early church that gave of its precious meager resources in difficult times including persecution and was abundantly blessed by God. Likewise, one of the fundamental identities in historic Anglican ecclesiology is the framework of our common structure of church governance and polity. One of the truths of this acknowledgement is that we live and serve in a global church, with worldwide ramifications for mission and ministry in faithful response to the mission of God. In our stewardship we are agents and vessels of the grace of God. Many good people over the millennia of church history have willingly sacrificed their lives for the advancement and propagation of the gospel and ideals of God and the preservation of our historic faith.
The recently concluded Lambeth Conference of Bishops and Spouses reminded every diocese and province in the worldwide Anglican Communion of the independence and inter-dependence we share as a people of faith. Every church in our beloved communion is interconnected to the other, irrespective of our geographical and/or juridical status. Although the demographic and economic configurations are uniquely different, we are called by God to a common purpose – Mission and Evangelism, Safe Church, Anglican Identity – common identity, Reconciliation, Human Dignity, Christian Unity, Discipleship and the pursuit of inter-faith and advancement of science and technology.
In my conversation with bishops of other provinces of the Anglican Communion on the question of diocesan apportionment/giving (mainly severely poor under-resourced financially constrained dioceses), they expressed the historic fact that this act of diocesan giving constitutes one of the fundamentals of Anglicanism because it is a biblical mandate. Their overarching understanding is (1) that it offers financial support to the maintenance of the diocese and is our God given stewardship toward a diocesan wide divine mandate to live into the Mission of God (2) some bishops referred to this act of financial commitment as our shared call in 'paying for services rendered' by the diocese on behalf of each parish, thereby the church considers any non-contributing parish as overtly burdening contributing parishes while at the same time enjoying and benefiting from the resources, protection and overall good will the diocese provides (3) dioceses act as safety net and spiritual guardian for all churches and, (4) it is historically contradictory to refer to any parish as an Anglican/Episcopal parish if it isn't a member church in the local diocese. Membership comes with shared responsibility of which financial commitment is an essential discipline.
Likewise, the diocese sees in the same light it's financial obligation towards the Episcopal Church and Province III. This testimony from our worldwide, more economically challenged sisters and brothers, should give certain members in the diocesan family justifiable reason to 'sit up and reflect' on its commitment to support the mission and ministry of God's church in the Diocese of Easton. We hope and pray that your financial stewardship toward apportionment will be given with a generosity of spirit, gratitude and joy for the ministry the diocese has faithfully offered, in these 155 years of its existence.
Parochial Apportionment 2023
My beloved, Christian stewardship should be viewed as a lifestyle discipline and responsible stewardship orientated toward the church should be guided by the abundant love God has shown us and the grace upon grace we are beneficiaries thereof (John 1: 16). Scripture reminds us, "for everyone to whom much has been given, much will be required; and from whom much has been entrusted, even more will be demanded" (Luke 12: 48). Consequently, parochial giving is an opportunity for all our parishes and members to express their gratitude for God's blessings received through the ministry and mission exercised by their diocese on their behalf to the church local, national and global. Your diocese thanks you for supporting the operational budget preserving God's gift to these shores through the perseverance of the Diocese of Easton ministry against all odds.
Parochial commitment significantly contributes to financial viability of the ongoing ministry of the Episcopal Church on the Eastern Shore. In that same expression of gratitude, the Diocese of Easton in turn consistently meets its faithful apportionment commitment to the wider Episcopal Church.
God's Call to God's Church
I wish to reiterate my pastoral counsel to the diocese in my 2022 apportionment letter, "every Christian leader and every Christ-centered church knows the importance of God-given vision. It gives spiritual enlightenment in good times and times of austerity. A clear vision also gives certainty not only about what is today but what can be tomorrow. The apostle Paul knew firsthand the power of vision, as time after time God instilled in his heart and illuminated in his mind the path that lay ahead. We can gain much and be greatly encouraged by his experience, as we are reminded that God directs us just as surely today. The text of Acts 16:6-12, shows three elements of godly vision: Call, the Way and the Goal. Over the past years 2019- 2022, the diocese has focused robustly on pursuing Paul's three-prong admonition by living into a vision issued by four successive Diocesan Conventions entitled Parousia or Second Chance. In layperson language we should make every effort to commit ourselves to the financial and spiritual well-being of God's Church for God's world. There is a redemptive quality in God's will for each of us and for God's beloved 'little gem on the eastern shore of Maryland – the Diocese of Easton". As fellow baptized disciples of Jesus working to fulfill the divine commission, to "go out into all the world and make disciples", I rededicate my life and vocation to the essence of this sacred call. We live into this command as individuals, as a corporate community of faithful believers and by our membership in and support of the wider church community. We are very mindful of the truth that one of the many ways we serve God's mission is through initiatives that promote and sustain the work of faith formation in the lives of God's faithful. The Lord through his church calls us to discipleship making through nurturing and discipling believers and non-believers.
The focus of the ensuing years, 2023 and beyond are:
strengthen and promote lay ministry and lay formation for parishes at no cost to lay volunteers or parishes
introduce and develop the Catechist Training Program to raise up, train and equip lay leaders to serve in parishes of the diocese
continue to fund the IONA Collaborative, training of locally formed clergy for the churches in the diocese, with limited financial burden to parishes and/or aspirants to the sacred office of deacon or priest
share in the diminishing of suffering in the world
continue to vigorously pursue the vision of Parousia in all of its component parts
introduce modern technology and training modules to diocesan personnel and parishes
support Latino Ministry across the diocese • advance the work of mission, evangelism and stewardship through engagement with external and internal consultants
recruit Mission and Discipleship Officer for the diocese to consolidate the work that began in 2017 but had to be suspended due to Covid pandemic restrictions
Annual Fall Mission Summit
Be mindful that to date, the legacy of St. Paul's Episcopal Center (SPEC) has funded much of the formation work carried out by the diocese through the Bishop's Institute. I strongly advise that the time has come for the diocesan budget to begin to assume some of that financial burden.  
Some of the aforementioned are current initiatives the diocese commits to continue to support and others are of new programs coming in 2023 and beyond.
Always be mindful beloved, the faithful are called to be living stones (I Peter 2), living in mutual love, called to make disciples into the JESUS-SHAPED LIFE: teaching, learning from Jesus, modelling Jesus' habits, living in the Spirit and the Spirit living in us, sacrificing and producing disciples through our lifestyle, undergirded by the core values of the faith: love, mercy, compassion, grace, forgiveness, mutual affection for one another, and the gospel discipline of contrition, humility and self-emptying (Philippians 2).
With much affection, gratitude and thanksgiving, it is my prayer with all humility and grace, that God' Mission will continue unabated in Jesus' beloved church on the Eastern Shore of Maryland where our Diocesan Identity as a Prayer Centered Church and Mission-Shaped Diocese is alive and active. And where we are a church committed to WELCOME ALL + SHARE JESUS' LOVE + SERVE THE WORLD.
Together in Christ's service,
Bishop San