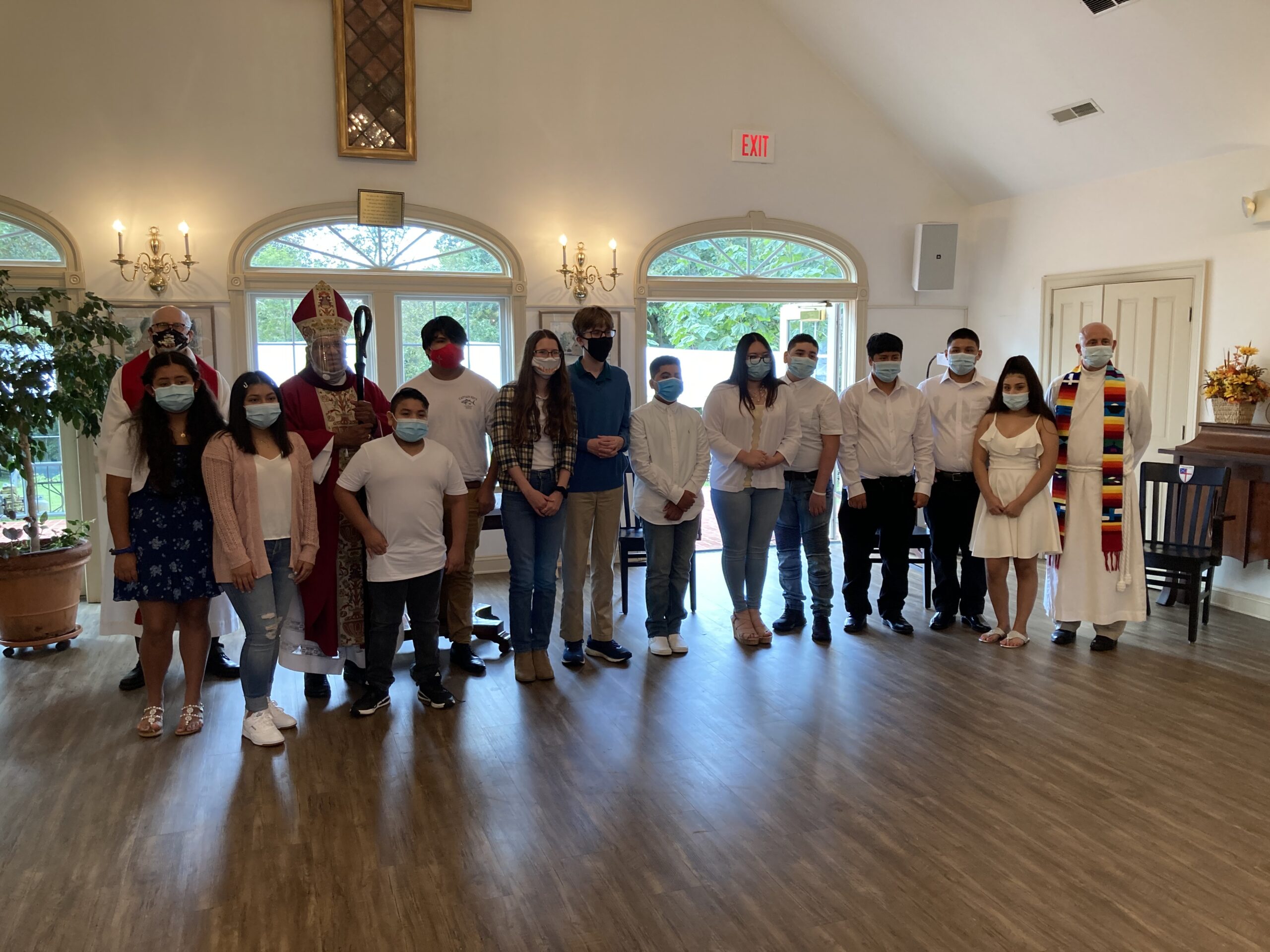 Sunday, September 27th, was a historic day in the over 150 years of the Diocese of Easton, Bishop San celebrated the confirmation of twelve (12) young people from La Sagrada Familia de Jesús (Holy Name of Jesus) and Shrewsbury Parish. The group represented the first Confirmation Class since La Sagrada Familia became on official mission church in the Diocese of Easton. "This should be a bright spot for all of us," said Bishop San, "seeing such an amazing group of young people committing their lives to Jesus and to sharing God's message of love and hope. As a global missioner for Christ, I live for moments such as this, God is good, Jesus continues his ministry of calling people to the message of the good news and the kingdom of God even in a pandemic."
The confirmation class, which began in late summer of 2019 (during Vacation Bible School), was taught by the Rev. Thom Sinnott. He covered topics ranging from bible study and prayer to church history, liturgy and what it means to be a Christian in the world today. Rev. Sinnott had wonderful things to say about the class, "It was so encouraging to see young people from both parishes together, and all with a desire to learn and to deepen their faith."
The Confirmation itself was originally scheduled for Palm Sunday in April. "We had to wait until after the quarantine," said Rev. Sinnott, "and we still could only have the students and families." He continued, "We are grateful to Bishop San for making a special effort to be present with us and we are looking forward to having a class reunion and fiesta when large gatherings are allowed – for the whole congregation to celebrate and welcome this Class of 2020!"
Although, Latino Ministry has existed in the area and worshipped at different locations for over 20 years, La sagrada Familia de Jesús was the first to officially join the Diocese of Easton. Established at the 151st Diocesan Convention in March 2019, the newly received congregation actually began worshipping at Shrewsbury Parish many years ago without any denominational affiliation. Bishop San, upon arriving to the diocese, immediately began visiting the congregation and made it a priority to visit regularly over the four years of his episcopate. The bishop is extremely confident the church will grow and, hopefully, the diocese will soon be in a position to call a full-time Latino Missioner to further extend our Latino missional presence across diocese.
"The missional partnership between Shrewsbury Parish and La Sagrada Familia de Jesús Mission is a model for all of us," reflects Bishop San, "our historically established churches should look outside their doors to see the mission field around them. Let us all be 'laborers in the vineyard'; a hospitable and welcoming community that befriends the 'holy other' among us embodying the command of Jesus, 'to go make disciples…'" The Rector of Shrewsbury Parish, the Very Reverend Henry Sabetti, and their Vestry are commended for their missional foresight and zeal for God's work. This model of mission growth has proven to expand and deepen God's presence in both congregations – and at very little fiscal cost.
The Rev. Dr. Thomas G. Sinnott serves as the "Fundador (Founder)" of the mission in its current format, and Vicar of the new congregation. The Very Rev. Henry Sabetti, Rector of Shrewsbury also participated in the Confirmation service. We congratulate all 12 of the students, their families, and both of their supporting churches.