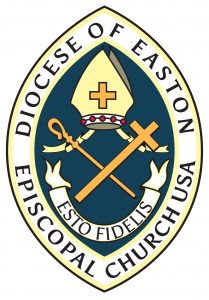 Memorandum: In-Person Physical Worship
From:   Office of the Bishop
To:       Clergy, Lay Leaders and Parishioners
Date:    May 14, 2020
Re: Reaffirmation of Pastoral Directive
The Governor of the State of Maryland, Mr. Larry Hogan yesterday announced modifications to his 'Stay at Home' directive to reflect a 'Safer at Home' public health advisory and gradual re-opening of certain sectors of public life including houses of prayer,
"CHURCHES AND HOUSES OF WORSHIP. Churches and houses of worship may begin to safely hold religious services, at up to 50 percent capacity, with outdoor services strongly encouraged. Religious leaders are strongly urged to do everything possible to keep their congregants safe, and particularly to protect the elderly and vulnerable within their congregations".
I wish to point out that the operative words in his address are, "advisory"; "may begin to safely" and "do everything to keep their congregants safe…". I am extremely confident we will be guided by his advisory as we have done in deference to previous communications. However, I am convinced as a diocesan family we are not ready to open safely and as such the Pastoral Directive extending the closure of churches for in-person physical worship remains in effect through May: Sunday, May 17 through Sunday, May 31, 2020.
This period would allow the 'COVID-19 Task Force' to conduct its work in a diligent, reflective, and unhurried manner. Due to the level of complexity and research required to provide a comprehensive user-friendly document, the protocol the Taskforce has been tasked to develop may not be fully completed by May 31st. However, we may be given some preliminary insights as to where their work is guiding the diocese as we develop measures for "keeping our congregations safe." The re-opening of churches for gatherings is a very serious and sensitive pastoral matter and it is our moral obligation to do so responsibly.
I am directing all churches to continue worship in the format presently in place by respective congregations as we continue to monitor developments. The Episcopal Church is respected for its care, love, safety, and compassion toward all God's beloved. Discernment has always been a defining quality in our culture of being church. We will take some extra time as our culture has advised to prepare our facilities to be ready for phased in gatherings.
In the spirit of biblical warrant, the Israelite children prepared in phases to return or resume life in the land of Israel after exile in Babylon from approximately AD 587 to 539.  Ezra, the priest, and Nehemiah, the governor, were sent ahead to prepare a phased re-entrance into their homeland. COVID-19 restrictions are somewhat likened to an abbreviated version of an exilic experience. One of the fundamental characteristics of exilic life is formation and transformation generally characterized by a period of fasting, isolation and enforced quarantined. We have been living a protracted Lenten Season living as a renewed people for God in Christ.
Our re-entrance should be qualified with joy and thanksgiving. However, this joy and gratitude needs to be tempered by the work of the COVID-19 Task Force – which is hard at work developing some specific observations and learnings for each parish to consider prior to reopening for public worship. Some of the considerations being discussed and evaluated include but are not limited to:
Clergy and lay leaders should develop a plan for cleansing of parish facilities & vessels, supply of face masks and hand sanitizer, internal social distancing protocol and relevant procedural observances as directed by the state and CDC regarding outdoor or indoor gatherings
Practice the habit of being comfortable with adaptability to new realities. Visualize the space you plan on using for worship
Develop an interim seating plan
Music and singing protocols
Clergy, lectors and LEMs social distancing and spacing movements
Administering of Holy Communion
Remember the building shapes liturgy
Any other important considerations unique to your parish
I wish to recommend that parishes use this period to begin internal parochial discussions on the areas highlighted above.
My beloved, please be mindful that the Church is God's people, not the buildings.  My greatest concern as your bishop is to ensure that all of us are as safe as possible when we once again allow public worship in our buildings and/or grounds.
Together in Christ's service,
The Right Rev. Santosh K. Marray
XI Bishop of Easton