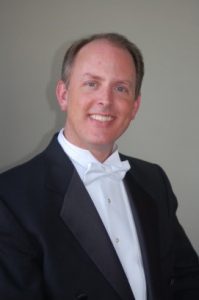 The Christ Church Concert Series concludes its 2017-2018 season this Sunday afternoon with a program featuring music for brass and organ.  The concert will begin at 4 pm, and doors will open at 3:30 pm.
Performing on Sunday's concert will be Christ Church music director Wes Lockfaw at the organ along with the Christ Church Brass Quintet featuring Carlos Zabala and Wendell Banyay (trumpets and flugelhorn), Alan White (French Horn), Lawrence Knier (trombone), and Daniel Walley (tuba).  Repertoire will include selections spanning four centuries and a diverse array of genres.  Among the selections are works by Handel, two of which are derived from the operas Rinaldo and Xerxes, Renaissance composers Monteverdi and Gabrielli, Richard Strauss, and Pavel Tchesnokoff.   The works of several current composers will also be performed including  Voluntary by Domecq Smith,  Trumpet Tune in G by Jeremy Bankson, and Cantabile No. 2 by Enrico Pasini.  The latter showcases Carlos Zabala on the flugelhorn noted for its lush, silky tone.  Also included in the repertoire is a Suite of Baroque Dances.  Each is rather short and delightful in their individual diversity.
Christ Church is located at 111 S. Harrison Street in downtown Easton.  The  Christ Church Series is supported in part by the Talbot County and Maryland State Arts Councils.  A free will offering will be received.  For more information, call 410-822-2677 or visit www.christchurcheaston.org.