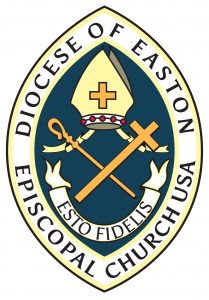 "So do not fear, for I am with you; do not be dismayed, for I am your God.
I will strengthen you and help you; I will uphold you with my righteous right hand."
(Isaiah 41:10)
Jesus said, "but take courage, I have conquered the world!"
(John 16:33)
My beloved family members,
Yesterday, November 10th, we listened with great attention to Governor Larry Hogan's address on the status of the Coronavirus (COVID-19) Pandemic and its recent surge in the State of Maryland. The address can read in full by clicking here.
Some notable points from the address include: 
The numbers are telling a sobering story, "Today our positivity rate increased once again to 5.24%, and it has now been slowly rising for the past 19 days… crossing the 5% mark, which is the key benchmark set by the World Health Organization and the CDC, for the first time in 137 days, since June 25th."

Employees able to telework should do so, "all employers across the state to limit their workforce only to workers who are essential and who are not able to telework." 

The number of persons allowed for in-person gatherings should not exceed 25 persons, "the Maryland Department of Health is issuing a new public health advisory, strongly warning against any indoor gatherings of 25 people or more." 

Mask wearing was reemphasized, "so much is dependent on mitigating steps that the public takes, wearing a mask and keeping distance."

In-home and family gatherings are potential spreader events, "you can just as easily get the virus by hosting a group of friends to watch football on Sunday or celebrating a family birthday or the Thanksgiving holiday."

Travel should be limited, "all Marylanders are strongly advised against all nonessential out of state travel to any of the states with a positivity rate over 10% or any of the 35 states who have average case rates of above 20 per 100,000."
I have met with and heard from many within the diocese in order to address this new development in a responsible, safe, and pastoral way. The governor's words served to reiterate and reemphasize the Diocese of Easton's own Protocols and Guidelines for Resumption of In-Person Worship.  This document was the result of many hours of informed, diligent and exceptional work done by the Diocese of Easton COVID-19 Preparedness and Response Task Force under the astute and responsible leadership of The Honorable David Mitchell and The Rev. Mary Friel.
Since the document went into effect, I have conducted 15 in-person gatherings including worship services, ordinations and vestry meetings. At each of these gatherings I have witnessed the remarkable and impressive ways in which God's faithful have risen to the occasion.  Parishes that I have been blessed to visit have gone above and beyond what the CDC, state and Diocesan Protocols/Guidelines directed in order to ensure the health and safety of their members and visitors. I wish to recognize and honor the intentional and judicious way that every parish is living into our baptismal vows and I trust our parishes to continue to do so even as adjustments must be made to meet the standards set by the CDC and government officials. 
Our protocols require churches to maintain at least six feet of distance between families, or individuals not residing together.  This requirement, along with the abundance of caution exercised by our leadership has in many cases already limited attendance to something akin to the Governor's new directive. Our protocols also emphasize that the CDC and government requirements should be our primary source of guidance and so we expect our churches to make sure that no more than 25 persons gather indoors until this directive is lifted. We acknowledge that this directive will impact some of our larger churches. Drive-up and outdoor worship guidelines have not changed and are encouraged in light of the new surge.
I have consulted with our two scientists on the task force, Dr. George Curlin, Epidemiologist and Dr. Thomas De Marco, Medical Advisor. Their combined advice was to acknowledge that the diocese's protocols/guidelines are extremely conservative as it stands. The diocese doesn't need to add any additional components to its content. They emphasized that limiting in-person gatherings to less than 25 persons, with compulsory mask-wearing, robust social distancing and after worship sanitization, should alleviate understandable health and safety concerns. This should also allow in-person attendees to feel safe. They cautioned that people at higher risk, including those with underlying illnesses, should abstain from attending in-person worship. 
Finally, they reminded us that nobody knows for certain the full health and safety ramifications around COVID-19. Everyone is advised to self-advocate. Parish leadership should offer the best counsel to their parishioners and parochial decisions should be dictated by developments at the local parish level and/or county.  My pastoral counsel to our faith community is, as far as possible, stay home if you feel uncomfortable to attend in-person worship, err on the side of caution. Follow worship virtually through your parish's virtual platform.
Also on the advisement of Dr. De Marco, we will continue to monitor weekly progress, and if the surge continues to increase on the Eastern Shore we may issue a directive to close churches for in-person gatherings until we see a noticeable decline in the numbers.  The Communications Department will be tracking the numbers daily to ascertain these trends. My pastoral counsel to all parishes is to have at the ready a plan for virtual Advent and Christmas seasons in the event that the diocese must institute a suspension of in-person gatherings. 
In the meantime, Clergy and Lay Leadership in each parish have the responsibility and pastoral care to decide if, and when, they may need to suspend in-person worship as a result of this new surge, and to regather in-person following the guidelines contained within our protocols and in response to their own local community and context. However, the office would appreciate a note to that effect for its record. Many of our 40 congregations continue to use virtual worship as their primary mode of worship.  And all who have gathered in-person, as stated before, have done so with careful diligence and adherence to protocols. 
The Diocese of Easton will continue to model its response with the same level of intentionality and care as we have seen mirrored from our first responders and county and state health officials. It will be informed by pastoral care and unconditional love for our neighbors, as well as parochial sensitivity for our members.  Thankfully, at this time, we are more knowledgeable and informed about effects, ramifications, and appropriate responses than we were eight months ago. We continue to live in the unfailing hope that comes from Christ and pray fervently for a quick and efficacious resolution.
Let us pray, 
​"Now to him who is able to keep you from falling, and to make you stand without ​blemish in the presence of his glory with rejoicing, to the only God our Savior, through ​Jesus Christ our Lord, be glory, majesty, power, and authority, before all time and now ​and forever. Amen" (Jude vs 24)
With every blessing and gratitude for your ministry in God's Church.
Together in Christ's service,
Bishop San
*The staff at the Office of the Bishop will continue to telework so please understand if you do not get prompt responses to your enquiries. The staff will be back to you as soon as possible.